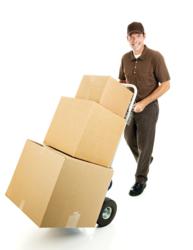 Los Angeles, CA (PRWEB) February 26, 2013
The first choice for all luxury, residential and commercial moves in Los Angeles, Acclaimed Movers, has just become the top Los Angeles movers as indicated by their customers. Acclaimed provides a premium service at an affordable rate, which has earned them the trust of the city. In addition to their customer's approval, Acclaimed has an "A" rating from the Better Business Bureau, confirming that they are indeed the top Los Angeles movers. The company continues to aggressively expand and improve, updating their website, adding new services, and further developing their massive fleet. They serve the local, long distance, and auto moving needs of Los Angeles.
For more than a decade, Acclaimed Movers has moved people across Los Angeles, across the country, and across the world. They move homes, apartments, condos, warehouses, retail facilities, offices, restaurants, and many other types of businesses and buildings. All of their relocation specialists go through extensive training, and use precision and care on every move. Acclaimed offers a packing service that includes the proper disassembly and reassembly of all items that require it, as well as, custom moving crates for all flat-screen TVs, artwork, antiques, and other delicate or fragile items. All transportation is conducted by Acclaimed's own fleet of top-of-the-line trucks, which comes equipped with GPS for easy tracking of shipments. When storage is necessary, Acclaimed has long-term and short-term space available in a state-of-the-art, climate-controlled, secure storage facility.
Acclaimed Movers has quickly become synonymous with affordability, efficiency, and reliability in the moving industry. They offer the best services at the best rates, and the company is committed to making a lifelong customer out of each person they help. As the top Los Angeles movers, Acclaimed has a responsibility to continue providing top-quality services at economical rates. If it's time to move a home or business in Los Angeles, it's time to get a free, no-obligation quote from Acclaimed Movers. We'll get you moving.