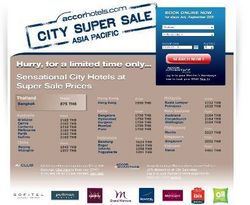 Australia (PRWEB) June 23, 2009
Travelers will be able to take advantage of savings of up to 60% when they book on-line between 23 - 29 June, for stays between July 10 and September 30, 2009. Over 250,000 room nights will be on sale, with rates starting as low as US$25 per night.
The 27 cities include Bangkok, Singapore, Kuala Lumpur, Jakarta, Hanoi, Manila, Mumbai, Sydney and Auckland.
Different rates apply for Accor's various brands, with Sofitel, Pullman, Grand Mercure, Novotel, Mercure, All Seasons and Ibis hotels participating, providing a vast range of affordable options during the 2½ months.
The Accor 'City Super Sale' coincides with record-low air fares across the Asia Pacific region, allowing travelers to enjoy some of the world's most exciting cities at bargain rates.
Reservations - via Accorhotels.com/supersale (sale starts June 23) or visit your travel agent.
Examples of city sale rates (with lead in pricing and approximate exchange rates):
Australia
Sydney from AUD79, USD63
Melbourne from AUD79, USD63
Brisbane from AUD79, USD63
Perth from AUD79, USD63
Canberra from AUD99, USD79
Cairns from AUD79, USD63
Greater China
Beijing from RMB208, USD30
Shanghai from RMB278, USD41
Hong Kong from HKD350, USD45
India
Hyderabad from INR 2400, USD51
Gurgaon from INR 2400, USD51
Pune from INR 2400, USD51
Mumbai from INR 2400, USD51
Bangalore from INR 2400, USD51
Indonesia
Jakarta from IDR408,000, USD40
Yogyakarta from IDR418,000, USD41
Bogor from IDR488,000, USD47
Bandung from IDR488,000, USD47
Singapore
Singapore from SGD88, USD61
Thailand
Bangkok from THB875, USD25
Malaysia
Kuala Lumpur from MYR175, USD50
Putrajaya from MYR155, USD44
Philippines
Manila from IDR 4437, USD94
Vietnam
Hanoi from USD130
New Zealand
Auckland from NZD99, USD63
Christchurch from NZD99, USD63
Wellington from NZD99, USD63
About Accor
Accor, a major global group and the European leader in hotels, as well as the global leader in services to corporate clients and public institutions, operates in nearly 100 countries with 150,000 employees. It offers to its clients over 40 years of expertise in two core businesses:

Hotels, with the Sofitel, Pullman, MGallery, Novotel, Mercure, Suitehotel, Ibis, all seasons, Etap Hotel, Formule 1 and Motel 6 brands, representing 4,000 hotels and nearly 500,000 rooms in 90 countries, as well as strategically related activities, such as Lenôtre;
Services, with 30 million people in 40 countries benefiting from Accor Services products in employee and public benefits, rewards and loyalty, and expense management.
###