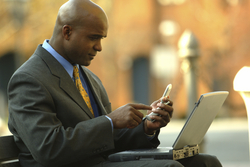 Owosso, MI (PRWEB) September 12, 2008
About nine months ago, Covenant Eyes asked its Members what they wanted most. Accountability for PDAs and cell phones was at the top of the list.
Covenant Eyes is beta-testing a Cell Phone/PDA version of its Accountability Software (patent pending) on cell phones and PDAs that use Windows Mobile 6 software.
So, those who are planning to buy a PDA or cell phone for Christmas, may want to consider a Windows Mobile 6 device. Several new devices from Samsung, HTC, AT&T, T-Mobile and others are now available and handy video introductions are available at http://www.microsoft.com/windowsmobile.
Covenant Eyes Accountability will work much the same on a Windows Mobile 6 handheld device as it does on a computer. Whether you're in your home or office or on the go, you will be able to take the protection of Covenant Eyes Accountability along with you.
A Covenant Eyes Member BETA test is planned for October, and the initial test will only be for those with technical expertise who can provide feedback. To be part of the BETA test, please send email to wmbeta @ covenanteyes.com.
###