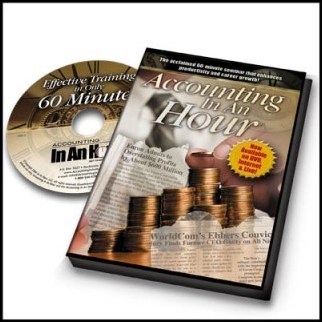 amazingly thorough…easy to follow…helped employees understand and appreciate their job functions better.
Hockessin, DE (PRWEB) March 22, 2007
When friends and associates discovered that Rick J. Makoujy, Jr. had a knack for simplifying corporate finance into easily understood concepts, they called him regularly for answers. One particularly happy associate said, "You make accounting seem so simple. I have a group of executives who desperately need accounting skills and we can spare them for an hour. Could you teach them?" Makoujy put together a 60-minute seminar that was so well received, he considered making the course more than a one-time event. And thus, the concept for Accounting In An Hour was born.
Accounting In An Hour is a 60-minute course—available via live seminar and DVD—that helps non-financial staff gain accounting knowledge to make them more valuable and productive in their careers. The course quickly demystifies financial statements and shows how organizations make and lose money, and how assets and liabilities are recorded. An online version of the program will be unveiled this spring.
"Anyone who cannot read a financial statement puts limitations on their career," says Makoujy. "They cannot contribute at meetings where finance is an issue and cannot provide a meaningful financial opinion. Accounting In An Hour can change all that."
Participants learn to interpret accounting terminology and goals, to take part in financial discussions and read reports, to achieve job and self-satisfaction, and to appreciate what an organization must do to turn a profit. From an organizational perspective, the course may also help companies comply with Sarbanes-Oxley reporting requirements.
Following a seminar at International Paper, participants and trainers provided comments such as "amazingly thorough…easy to follow…helped employees understand and appreciate their job functions better." Pitney Bowes, Coldwell Banker, Harrah's Entertainment and other organizations have also profited from the program.
Accounting In An Hour is available for individual, group and corporate purchase. The National Association of Convenience Stores (NACS) is offering the course to members and their employees. It is also under U.S. General Services Administration contract and is listed on the GSA Advantage website.
For additional information, visit http://www.AccountingInanHour.com, or contact Robert Hartman at (800) 556-6799 to arrange a demonstration.
Contact:
Jeff Cramp
Cramp+Associates, Inc.
610-649-6002
# # #