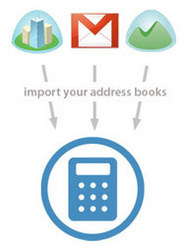 Every feature we add or take away makes Less Accounting better for our user's business and ours.
Jacksonville, FL (PRWEB) May 21, 2008
Less Accounting just released an address book importer for Basecamp, Highrise and Gmail. This new feature lets users easily import their contacts in seconds. Once in the Less Accounting system, those contacts can be associated with invoices, proposals and payments. Sales notes can also be manually or automatically tied to a contact.
The address book importer is the latest of several updates planned for the accounting application. Previously released in April 2008, Less Accounting redesigned their user interface to extensively use AJAX, added a weekly email summarizing user's pending expenses and invoices, and created expense categories to match tax forms. Other features currently in development will make transitioning from different accounting software solutions to and from Less Accounting a simple process.
Development company, Less Everything, recently received critical acclaim for their marketing campaign, We All Hate Quickbooks, which aggregates every "tweet" that mentions the word "quickbooks" from popular social site Twitter.com. Following the success of the campaign Less Accounting saw the application's management increase to over $330 million for their users.
"When we started our business we were disgusted with the accounting software that was out there, so we built Less Accounting as a tool for us, hoping others would like it too," said Steven Bristol, President of Less Everything. "Every feature we add or take away makes Less Accounting better for our user's business and ours."
About Less Accounting:
Less Accounting is web-based software for small businesses that makes accounting easy, so users can focus their time on making money rather than managing it. Less Accounting offers simple contact management, online invoicing, expense tracking, business proposals, data importing and more. Created by the ruby on rails development company, Less Everything, Less Accounting offers a free 30-day unlimited trial at http://lessaccounting.com.
For more information contact:
Rhea Drysdale (904) 742-6477 or rhea (at) lesseverything (dot) com
###