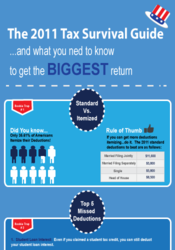 Your field guide to getting the biggest tax return for 2011.
(PRWEB) January 24, 2012
Ignite Spot Accounting Services released a 2011 tax preparation checklist designed to help tax payers get the largest returns possible this year.
The infographic spells out the current standard deduction levels, hidden tax credits and the most commonly missed tax deductions that every tax payer should be aware of going into April 15th. It also has a handy tax preparation checklist to help get tax payers organized easily.
Ryan Steck, CPA and CFO of Ignite Spot Accounting Services, defined the checklist as "A toolkit for people wanting to get a great return. It was designed to be fun to read as well. Odd tax facts were even added to make the infographic less like an IRS document, and more like a useful guide. We put the checklist together so that our clients and network would have a quick and easy way to get their documents ready. It can be so convoluted when you try to gather all of your documents through the entire year, but you want to make sure that you get all of the necessary paperwork. Doing so will increase your ability to get a great return."
The checklist will be posted online as a free resource to anyone needing additional help this year. To view the full infographic, click the link above. The Ignite Spot Accounting Team also has a CPA staff on hand ready to answer any questions a tax payer may have.
Ignite Spot is the trusted accounting service for businesses nationwide that need bookkeeping, QuickBooks Help, and small business tax help.
###