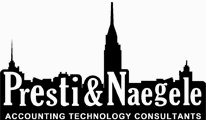 QuickBooks integrated applications not only go beyond traditional bookkeeping and accounting, but they can significantly improve efficiency and reduce costs by automating processes and streamlining operations
New York, NY (PRWEB) May 22, 2013
Presti & Naegele Accounting Technology Consultants offer custom integrated accounting solutions to their clients as QuickBooks Certified ProAdvisors, and have recently put together a top 5 list of QuickBooks integrated applications that all meet a high standard of functionality and usability. After extensive research, the chosen integrated applications are: Mavenlink, Demandforce, Bode Tree, Zoho CRM and Concur.
The need for a high level of objective and experience-based evaluation of such applications becomes more important with every new QuickBooks add-on application being developed and made available on the market. In other words, "When a client needs your experience and perspective to navigate through making choices, as a business advisor you have to know which are the best solutions to their most pressing problems," concludes Andrew C. Presti, Managing Partner at PNATC.
QuickBooks integrated applications not only go beyond traditional bookkeeping and accounting, but they can significantly improve efficiency and reduce costs by automating processes and streamlining operations. Through these applications, businesses of all sizes and across all industries have access to the best hands-on solutions available today.
5. Mavenlink is designed to simplify workflow and increase productivity by providing a central, collaborative workspace where projects can be tracked and completed. Its features include real-time messaging, file sharing and email integration. The key benefit is that projects and tasks can be managed from any Android device or iPhone via mobile applications.
4. Demandforce can be used with QuickBooks to automate marketing processes that help businesses better communicate with their clients and build a growing online reputation for the company. This software syncs easily with QuickBooks and has automated features that send emails to customers, get their reviews and publish them on the most important websites, and collect valuable feedback through surveys. Demandforce is a powerful marketing asset that evaluates customer satisfaction, referrals and revenue generated from email campaigns.
3. Bode Tree is a software package which addresses issues such as business strategy, finance and reporting. It offers an intuitive and straightforward way of tracking and understanding the business's financial progress, of generating professional overviews for meetings with investors, and of evaluating where the competition outperforms the company.
2. Zoho CRM has been developed to fully integrate with QuickBooks so that any data can be imported from one into the other and vice versa. This application is the perfect streamlining solution for any online store. Zoho CRM for QuickBooks helps in maintaining a complete and up-to-date overview on customer information across all departments including Marketing, Accounting and Sales. Some of its key features focus on synchronizing customer and suppliers' data, transferring inventory data, resolving data entry conflicts, and viewing audit trails, saving time and increasing efficiency.
1. Concur successfully addresses expense management by streamlining the submission, review, and approval of all business expenses. Expenses can be tracked, managed, and processed quickly and error-free because there is no need to enter data manually. When the time comes, Concur sends approved expenses to QuickBooks as a bill or credit card charge specifying business purpose, customer, class and other necessary details. Another feature is that credit card charges can be automatically imported, simplifying the expense reporting process, and its expense filer feature also handles receipts. The electronically captured receipts - completely IRS compliant - are added to the expense report automatically.
QuickBooks is a robust accounting solution, with over 500 applications that can be seamlessly integrated to increase overall productivity by saving essential business resources, such as time and energy. This intelligent technology has high usability and functionality. QuickBooks integrated applications are a long-term investment necessity for the success of any business.
About Presti & Naegele Accounting Technology Consultants
Presti & Naegele Accounting Technology Consultants, or PNATC for short, utilizes QuickBooks as its core offering to provide customized accounting software solutions. The dedicated staff of QuickBooks Certified ProAdvisors is based in New York and provides clients with a wide range of software and business accounting services. Services are tailored to fit the unique business needs of individual clients and are designed to increase the bottom line and streamline accounting procedures.