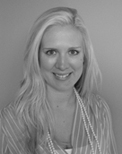 "Liane's dedication to the CSI globalVCard paysystems program continue to impress us. We are excited that she has dove right in to tackle the challenges of her new role and extremely proud that she is part of our team," says Keith Ston
Bonita Springs, FL (PRWEB) October 30, 2012
For the past 2.5 years, Ms. Eliason has performed in a high capacity for CSI as a Senior Account Manager, managing implementation, vendor enrollment, and support for many high-scale client's globalVCard accounts. In her new role, Ms. Eliason will be responsible for globalVCard paysystems partner programs operations and relations in the US and Canada. Her comprehensive knowledge of the globalVCard program and full hands-on experience with a multitude of clients will serve Ms. Eliason well in this new role.
The CSI globalVCard paysystems program is an electronic accounts payable directly integrated solution that offers savings by reducing labor/costs associated with paper check/ACH disbursements, efficiency by automating the payables process with secure electronic vendor payments and timely reconciliation, and security by generating unique single-use account numbers for each vendor payment.
"Liane's understanding of and dedication to the CSI globalVCard paysystems program continue to impress us. We are excited that she has dove right in to tackle the challenges of her new role and extremely proud that she is part of our team," says Keith Stone, CSI President and CEO.
For more information about CSI globalVCard paysystems, please visit http://www.csivirtualmastercard.com.
For more than 20 years, CSI Enterprises Inc. provides a specific line of controlled financial payment products including business fleet fueling/maintenance payment cards, a corporate virtual payment and card solutions for corporate purchasing, travel and entertainment spending. Today, CSI and its products operate in all fifty states including Canada, Mexico and the Caribbean.
CSI globalVCard paysystems is a secure online payment portal that allows users to upload a payment file from their existing A/P software, route to workflow for approval and quickly disburse multiple vendor payments. GlobalVCard paysystems is a directly integrated solution that offers savings, efficiency, timely reconciliation, and security.