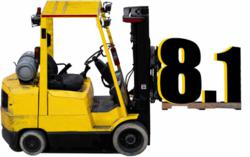 The new Landed Cost feature gives businesses more control when determining the real Cost of Goods Sold.
Arlington, Texas (PRWEB) January 30, 2013
Adding to an already existing robust set of features, ACCTivate! 8.1 introduces landed cost and custom kitting as addon modules. The new release also provides other improvements, such as support for Windows 8, Microsoft® SQL Server 2012, QuickBooks Enterprise Solutions 13.0, QuickBooks Premier 2013 and QuickBooks Pro 2013.
"The new Landed Cost feature gives businesses more control when determining the real Cost of Goods Sold," Brian Sweat, ACCTivate! Product Manager said. "Now, additional charges beyond the purchase price of a product, like customs, duties, insurance, freight, shipping and other charges can be manually and automatically allocated across one or more inventory transactions based on quantity, value or weight."
ACCTivate! 8.1 provides several benefits to businesses when handling additional costs from vendors and total landed cost:

Manage Cost of Goods Sold (COGS) more accurately based on the total cost, which helps calculate profit margins
Automatic update of COGS by linking additional costs back to the original received product
Link back to a single receipt one at a time or link to all receipts for a purchase order
Track additional costs for inter-warehouse transfers, such as transportation fees
Automatic creation of vendor bill, so you do not have to perform one transaction in ACCTivate! for inventory and COGS, then enter a separate bill in Accounts Payable
Maintain a separate General Ledger account to accrue landed cost, cleared by Vendor Bill
Properly accounts for multiple FIFO/ LIFO cost layers, if applicable, by linking proper layer of original receipt
Update inventory at multiple transaction dates for multiple receipts, which allows the freight for receipts to be pushed into inventory every day of the month in one single transaction
Kitting in ACCTivate! has always given businesses the ability to sell products as single units that are composed of multiple components by collecting or kitting them when shipped. Now, with the new Custom Kitting feature companies can have more flexibility with the option to make one-off changes to the quantity of kit components and to add or remove components from a kit on a sales order.
For example, with manufacturing there may be paint, some liquid or chemical component that goes into a kit and the production staff may want to record the usage rather than the standard nominal quantity, so custom kitting makes this possible by having the ability to mark components as variable, meaning they can be changed.
About Alterity, Inc.: Alterity, the creators of ACCTivate! Distribution and Supply Chain Management Software for QuickBooks and Intacct, helps companies solve their inventory, warehousing and distribution needs, while also delivering a complete business management system. Alterity is an Intuit QuickBooks Gold Developer and ACCTivate! has received the designation of "Awesome QuickBooks Add-on" by the largest community of QuickBooks professionals in the United States, The Sleeter Group.
ACCTivate! is a feature-rich distribution and supply chain management solution designed for QuickBooks and Intacct that enables companies to gain control of their business and manage everything from inventory to customer service management - all delivered in an interactive interface complete with robust reporting and a dashboard for turning data into information. ACCTivate! is distributed in the United States and internationally, including in the Caribbean, Canada, the United Kingdom, Australia, New Zealand and South Africa. Try the free trial today to experience the power of ACCTivate!.