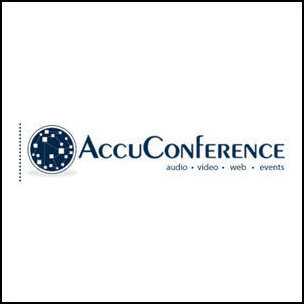 We genuinely enjoy introducing new innovations based on what our customers say they need
Fort Worth, TX (PRWEB) April 18, 2007
Imagine looking up from your work to find out that the conference call you absolutely must attend has been underway for 20 minutes. Or worse, it has already ended. Ask any professional you know, and they'll recognize this as an all-too-familiar scenario.
Today, AccuConference, provider of Audio and Web conferencing technologies, released a free downloadable tool that makes the forgotten conference call a thing of the past. Their new Outlook plugin allows moderators to automatically remind conference-goers of the time, topic, call-in numbers, and conference codes to use.
And the plugin works with any conferencing system, not just their own. With a few clicks, the plugin will issue an e-mail and an Outlook calendar reminder item to the participants registered for the conference call. Additional features allow for one-click visits to support web sites associated with the conference.
"We consider this tool our free gift to the teleconferencing world," says Jim Black, AccuConference president. "Anyone can download the plugin from our website and use it for free, regardless of what company handles their conferencing."
Mitch Meyerson, an author and marketing expert who has run thousands of hours of teleclasses, says conferencing is a much-needed tool and one that will save money and professional reputations.
"Entrepreneurs and companies spend a lot of money on meetings and trainings – sometimes upwards of thousands of dollars per person – only to miss classes," he says. "People get so overwhelmed with information and input that they lose track of time or get distracted with e-mail or phone calls."
Those costs can add up quickly in today's business world where corporations and small businesses alike rely on teleconferencing to sidestep travel complications related to terror incidents and surging gas prices. With the conferencing industry expected to reach $5 billion in 2007, according to the market analyst firm Wainhouse Research, revenues lost to the industry by forgotten conference calls are substantial.
Christian Nys, a Phoenix, Ariz. entrepreneur who frequently attends high-dollar teleseminars, says he's among the guilty who play "conference call hooky."
"I don't know how many times I've been late for a conference call, but it's too many. About 10% of the time I forget about them completely," he says. "When your career depends on being reliable, mistakes like this one can't be repeated too often."
Black says the tool is just one of many his company has created based on customer feedback.
"We genuinely enjoy introducing new innovations based on what our customers say they need," says Black. "Making this tool free to download was one small way of giving back to the world, in the spirit of our Get Connected program, which provides 50% off audio and web conferencing for nonprofits, schools and universities."
The company's services include desktop control of conference calls, free recording, toll-free and flat-rate plans, and international calling at no extra surcharge to more than 30 countries. They also provide web conferencing with PowerPoint, application sharing, video, polling and online participant chats.
About AccuConference
Since 1986, AccuConference has offered the latest communications technology to professionals. Based in Fort Worth, the company provides unlimited conference calling options and offers instant reach-ability to its client support staff. The company's passion is delivering the highest quality real-time communication, cutting-edge products based on client needs, and versatile customization to fit any scenario and budget.
More info: http://www.AccuConference.com
For more information please contact Andrew Clogg, 1.800.977.4607.
# # #