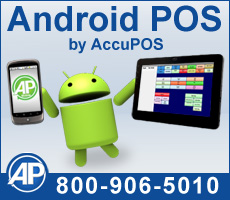 The Android POS will revolutionize the restaurant industry. Now is your opportunity to get in early. Zion Shina, CEO
Los Angeles, CA (PRWEB) March 21, 2012
AccuPOS Presents: Point of Sale for Android
AccuPOS Point of Sale already leads the industry in Point of Sale with Accounting Integration, so what's next? Behold, AccuPOS presents an Android Point of Sale system for your Android tablet and Android phone!
Just imagine, you are the owner of a restaurant and your employees no longer need to race each other to the register and inundate the kitchen. They will be able to send any special order to the remote printer using their Android device the exact same way they would use Point of Sale software on a PC. Wouldn't you feel great knowing that your wait staff is able to send orders to fire right from the restaurant floor? (Insert Facebook LIKE here!) Now you can do the same things you would normally do but this time, do it faster, cheaper and with more reliability.
What Does This Mean for the Consumer?
For restaurant goers, how wonderful would it be if, when ready to leave a restaurant, your server could check you out right from your table? No more waiting for the whole process of your waiter running back and forth to the register. The new AccuPOS Android Point of Sale app just pulled up your check, swiped your card, handed you a receipt and said thank you come again…customer service to return for.
The kind of phenomenal customer service businesses can only dream of! AccuPOS has been dedicated to helping businesses grow for over 13 years. Now, with the release of this innovative new Point of Sale for Android devices, growing your business with AccuPOS just got even easier.
Not only is this Android POS a fraction of the cost of traditional POS systems, both the hardware and software licensing is also much more affordable. Let AccuPOS increase your overall revenue with our Android POS technology, resulting in faster table turnaround times and higher customer satisfaction.
The brand new Android POS is just one of the many exciting developments happening at AccuPOS Point of Sale; headquartered in sunny Westwood, California. To learn more about our innovative Point of Sale for Android, contact a helpful AccuPOS professional at (800) 906-5010 today!
About Attitude POSitive
Attitude POSitive is the creator of AccuPOS (Point of Sale) inventory management and time clock software for the retail and hospitality industries. The AccuPOS family of products, designed to be faster and easier than a cash register, offers unmatched ease of use, security and cost-effectiveness to streamline the sales process. AccuPOS products, based on open standards, expand the capabilities of an existing accounting program and allow users to grow and change, without being locked into proprietary vendor products. AccuPOS products are integrated with the most widely used accounting packages, including QuickBooks, Peachtree Simply Accounting Line 50, and MAS 90/200.
Founded in 1997, Attitude POSitive is headquartered in Los Angeles with regional offices throughout the United States as well as in Europe. For more information, visit http://www.accupos.com.
Contact: AccuPOS
Derek Moore
Dir. of Marketing
800-906-5010
derekm(at)accupos(dot)com