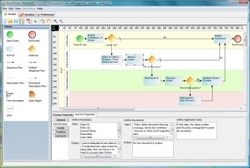 Today's announcement is a big step towards the AccuProcess vision of enabling a process-centric world.
Chicago, IL (PRWEB) October 14, 2010
Business process modeling solutions provider, AccuProcess Inc., today announced the release and availability of its AccuProcess Modeler software product. This next generation solution combines process discovery, business process mapping, documentation, process analysis and simulation in a single, simple-to-use application.
AccuProcess has designed its Process Modeler product to make the task of documenting and analyzing business processes as easy and as natural as possible for business users. This business process modeling software product is compliant with the Business Process Management Notation (BPMN) standard and is designed and purpose-built only for modeling processes and so it does this job well.
AccuProcess will today release version 1.0 of its AccuProcess Modeler. This concludes a six-month long beta program during which hundreds of users downloaded and utilized the AccuProcess Modeler and gave their feedback to the product team. This feedback assisted AccuProcess in further improving its business process modeling solution and thus make it more functional and easier to use.
AccuProcess Modeler will be available in the following three configurations:

Lite edition for process mapping and discovery. Available for free, no time limits.
Professional edition for process mapping, documentation and export into PDF format. Priced at $499 per user.
Expert edition for process mapping, documentation and process simulation for analysis. Priced at $998 per user.
"Today's announcement is a big step towards the AccuProcess vision of enabling a process-centric world. Our innovative technology makes it easy for business users to document and analyze their business processes. We have combined that with a simple pricing model that provides an incredible high value to our customers. Further, our announcement of a free, unlimited-use edition offers a powerful incentive for all companies, organizations and analysts to utilize this capable tool for process modeling irrespective of their budget constraints. This shows our commitment to our vision and towards the business process analyst community", said Deepak Singh, President of AccuProcess Inc.
Key capabilities and features of the AccuProcess Modeler include:

Unparalleled simplicity and ease-of-use for Business Users
Visual, graphical, drag and drop Process Mapping
Wizard driven approach to Process Discovery
Self documentation of documented business process into PDF
Process Simulation capability to analyze cost and timing metrics
Process Improvement and Optimization by analysis of As-Is and To-Be processes
Support for BPMN standards
AccuProcess Modeler v1.0 is now available for free download at the AccuProcess website. Download allows evaluation of full Expert edition for 14-days and then converts into a free, unlimited use Lite edition.
About AccuProcess:
AccuProcess provides process modeling solutions for companies and organizations of all sizes. Its AccuProcess Modeler product is a visual, easy-to-use business process modeling software that helps business people DOCUMENT, SIMULATE and IMPROVE their business processes. http://www.accuprocess.com/
# # #