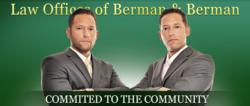 Contact the Berman Law Group today, experienced Accutane lawyers who are committed to justice. 1-877-529-8995
Miami, Florida (PRWEB) April 17, 2013
The Berman Law Group are now providing Accutane legal counsel for all people who have been allegedly harmed by the drug. They provide experienced legal representation as Accutane lawyers in Florida. They are able to help clients all over the United States and will fight for their clients' justice in court and outside of it.
The Berman Law Group are committed to the community and will fight for their clients' rights. They are passionate about client rights and are focused on delivering the results and justice to those who have been wrongfully injured or harmed. They focus on compassionate legal counsel for their clients. They are aggressive personal injury lawyers who will not rest until they have done all they can for their clients.
Accutane (isotretinoin) is an oral drug used for the treatment and prevention of severe acne. Generic formulations of Accutane are available and the brand name is discontinued in the United States. The most common side effects of Accutane are dry skin, itching, dry nose, nosebleeds (epistaxis), cracks in the corners of the mouth (chilitis), dry mouth, and inflammation of the whites of the eyes. This is not a complete list of side effects and others may occur. It is advisable to contact a doctor if anyone has been injured by the drug or if they are unsure if the side effects are due to Accutane. Always seek professional medical advice and do not rely on internet or a law firm to treat your medical conditions.
An accutane lawyer can and should be consulted once all side effects are cleared up a the patient is in good health. It is also important to document all side effects and take notes of the condition before and after taking the drug Accutane.
Some of the more severe side effects experienced from taking Accutane include: hives; difficulty breathing; swelling of your face, lips, tongue, or throat. These side effects indicate an allergic reaction to the drug and must be treated right away.
Long term side effects from Accutane include: depression, inflammatory bowel disease, ulcers, cataracts, stroke, hepatitis, serious muscle damage, bone overgrowth, birth defects and others.
To get in contact with the Law Offices of Berman and Berman you can contact them at 1-(877) 529-8995 or visit their website found at http://lawyerinjuryaccident.com/. They are available 24 hours a day via email, phone, or live chat on their website. For help regarding Accutane lawsuits, contact the Berman Law Group today, experienced Accutane lawyers who are committed to justice.