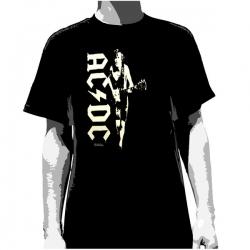 AC/DC merch, whether it's for yourself or as a gift, for music lovers young or old, is always a good buy
Melbourne, Victoria (PRWEB) January 11, 2013
Last week, Planet 13 closed off their holiday statistics in order to announce their Top 5 Holiday Band sales for 2012. Former frontman of popular Melbourne-based punk band Voodoo Lovecats and owner of the online band t-shirt store, Shawn Scott says he was "a bit surprised that their AC/DC shirts got bumped down the ladder, given they held last year's top two selling positions."
Each year as families and friends search out the best holiday gifts for music lovers on their shopping list, the demand for classic rock band t-shirts at Planet 13 rises in the month prior to Christmas. Amongst the most popular of all is hard rock band AC/DC, who've been ranking in Planet 13's Top 5 Holiday Band's for several years.
Last year, the AC/DC shirts called "Black Ice" and "Angus Lightning" held the top two positions, creating a decent chunk of the Australian band merch store's sales for the holidays. But this year, the band was knocked out of the top 5 completely.
Shawn says of this big shake-up, "It has a lot to do with what's going on in the music industry at the time and what's most prevalent in the media." This year's Top 5 Holiday Bands for Planet 13 were, in order: Guns N Roses, Motorhead, Fear Factory, Lamb of God, and Tool.
"After I saw AC/DC was overtaken by Guns N Roses in the number one position for sales," continues Shawn, "it made sense to me. With all the recent media coverage, Axl appearing on TV, upcoming shows and dates announced for an Australian tour, the excitement for Guns N Roses naturally spiked enough to topple AC/DC from the number one spot."
Shawn goes on to mention the other four bands were all newcomers in the best sellers; and were able to inch into the top 5 list because of their "recent tours and new band and hoodie designs becoming available." But Shawn holds onto the belief AC/DC won't be outdone for long, "The band has withstood the test of time. And that means AC/DC merch, whether it's for yourself or as a gift, for music lovers young or old, is always a good buy."
The former punk rock vocalist further remarks, "I'd expect to see our AC/DC shirts back in the Top 5 within a few weeks because they've easily remained in our top ten; plus, that band isn't known for settling for second best!"
To view Planet 13's AC/DC t-shirts or other band merchandise, click here.
A bit about Planet 13™
Planet 13™ was conceived and created in 2004 by Shawn Scott, front man of the once-popular Melbourne based glam/punk band Voodoo Lovecats. He prides his online merch store Planet 13 as featuring an extensive range of fully licensed entertainment items, band shirts and merchandise - all while providing the best customer service around.