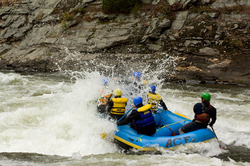 Our team has set a new standard in the coordination of advertising, marketing, reservations and promotions to revitalize what has been a maturing product and travel industry niche
Oak Hill, WV (Vocus) January 18, 2010
In a continually evolving and highly competitive industry, West Virginia's largest whitewater rafting outfitter is staying afloat — and it's paddling to the top of the adventure vacation market.
The initial compilation of 2009 user numbers from the state's Department of Natural Resources shows that ACE Adventure Resort continues as the state's leading provider of whitewater rafting trips and is gaining market share.
ACE owners and managers said Monday the resort's success is due to continuous product innovation, the quality experience provided by amazing staff members, and aggressive use of digital marketing.
"Our team has set a new standard in the coordination of advertising, marketing, reservations and promotions to revitalize what has been a maturing product and travel industry niche," said Jerry Cook, co-owner of ACE.
West Virginia's whitewater industry on the New and Gauley rivers suffered an 11.5% drop in visitor numbers in 2009. The decline represents a trend that has seen rafting users in Southern West Virginia diminish by more than 37% since the industry peak in 1995. River rafting for New and Gauley outfitters has decreased over 17% in the past three seasons.
ACE, however, maintained its visitor numbers in 2009, posting only a .3% overall decrease in its rafting guests. ACE posted rafting guest increases for five consecutive previous years, and its off-river activities are showing a strong growth trend. The resort's zipline canopy tour users, for example, grew by more than 500%.
ACE also increased its market share of the West Virginia whitewater industry in 2009 to 27.5%. Since 1999, ACE has grown its rafting visitors by just over 50%.
Gill said that ACE has benefitted by engaging with visitors and prospects on the Internet using the resort's website, as well as platforms such as Facebook and Twitter.
"So much of our lives and business is moving to the web. More and more of our marketing and publicity activities, and our interactions with customers are occurring there — we're joining their conversation on the web, said ACE Marketing Director Beth Gill.
Benchmark data from Google's web analytics and other tracking tools put ACE's website, http://www.aceraft.com, in the top tier of all travel websites worldwide.. The website helped land ACE on the Travel Channel's "Extreme Resorts" this year, Gill said, noting the support ACE receives from its digital marketing agency, the Oak Hill-based WELD, as critical to the resort's success.
ACE owners and managers said that the trend in whitewater visitors is a result of a maturing industry. Movies such as "Deliverance" (1972) and "The River Wild" (1994) led to major upticks in business for river outfitters across the country. Now, more than 40 years after the first West Virginia whitewater company was founded — Wildwater Expeditions, the third river rafting company in the country — many of the industry's founders are getting out of the business. In 2008, numerous West Virginia outfitters were consolidated in a series of sales and mergers.
The few companies that remain continue to diversify their offerings, bringing new activities and lodging into their catalog to entice vacationers. Gill said ACE has seen its off-river activities grow in popularity by 21%, allowing ACE to post a 7.75% growth in revenue amid the recession of 2009.
ACE owners said the adventure trip and product innovation will continue in 2010. The resort plans to expand its wildly popular zip-line canopy tour. Guests will also be able to book trips with BridgeWalk, which is scheduled to begin giving tours beneath the world-famous New River Gorge Bridge this spring. Cook said ACE plans to introduce other activities on the 1,500-acre resort property — even a snow-tubing hill for winter guests.
###