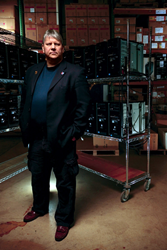 This project is another example of our ability to deliver outstanding performance outside the continental U.S.
CHICAGO (PRWEB) March 14, 2017
Ace Computers developed and delivered industry leading anti-money laundering (AML) technology designed to reduce the entry of illegal drugs into the U.S.—with the ultimate goal of minimizing the scope and impact of international crime on the U.S. and its citizens.
The U.S. Department of State (DoS) contacted Ace Computers to build AML technology for a South American government they were working with--DoS often partners with allied governments to support criminal justice and law enforcement efforts.
The scope of the order was for the purchase, delivery and installation of servers, network switches, and controllers at the South American location to detect money laundering operations by analyzing banking transactions. Ace Computers was also required to provide installation, support and warranty services from a vendor that could support installations in South America.
Ace Computers Vice President Marc Fertik said, "They were very comfortable working with us because of our long and successful history with the federal government. They were aware of the major government contracts that Ace holds, GSA, SEWP, etc. and that gave them the additional assurance they needed to trust us with this sensitive order."
For the technology, DoS and the South American government required powerful, stable performance in terms of processing, memory, and hard drives. Ace Computers analyzed these requirements and supplied optimal solutions.
Ace Computers impressed both DoS and the South American government throughout the process. "The fact that we were able to find and vet a partner to provide onsite support was a big factor," Fertik said. "Since this was considered mission essential in their war against drugs, they were interested in a timely delivery, which we were able to accomplish."
Ace Computers CEO John Samborski said, "This project is another example of our ability to deliver outstanding performance outside the continental U.S. We always appreciate another opportunity to work with the highly competent professionals at DoS either within our borders or overseas."
Leading custom computer builder and HPC cluster specialist, Ace Computers currently holds the following contracts: SEWP V, CCS-2, GSA, WSIPC, PEPPM, State of Wis., State of Ga. The company is a Woman-Owned Small Business custom technology systems manufacturer and reseller for the public sector as well as the commercial sector. Channel partners include Intel, Supermicro, NVIDIA, Mellanox and Samsung among others. Ace Computers is an authorized Microsoft Surface Partner. An industry leader since 1983, the company is a 2016 HPCwire Readers' Choice Award finalist. In addition to some of the finest academic institutions in the U.S., long-term clients include the U.S. Department of Energy and the U.S. Department of Defense. In addition to our Greater Chicago headquarters, Ace Computers has locations in New Jersey, Pennsylvania, Virginia, and Nevada. To contact Ace Computers, call 1-877-223-2667 or 1-847-952-6900 or visit http://www.acecomputers.com/TopProducts.asp