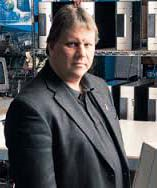 Deep learning workstations, in particular, are an exciting field. It's thrilling for us to see how our technology is making a definable difference in the world.
CHICAGO (PRWEB) February 07, 2017
Ace Computers just announced the development of industry-leading workstations for deep learning/AI applications. The workstations are designed for the maximum performance required for training deep neural networks and developing applications.
Deep learning is one of the fastest-growing segments of machine learning/AI. Right now researchers are developing new deep learning algorithms that require processing an astounding amount of data. Ace Computers' deep learning workstations have the capacity to collect and process that data and power breakthrough insights.
Traditional machine learning has significant drawbacks in terms of time-to-insight and the nanoscale accuracy required for applications such as healthcare. Next gen deep neural networks leverage algorithms, big data and GPU computational power to overcome these hurdles.
A major U.S. research institution with a significant footprint in the area of deep learning has been a loyal Ace Computers client for almost 10 years. During that time, Ace Computers has provided any array of technology for a number of projects including the institution's deep learning initiatives.
"The workstations that Ace Computers has built for us are for computer vision and deep learning research," a research assistant said. "We develop algorithms that give computers the ability to understand images and videos and we need a lot of processing power to do that. We constantly run computationally heavy tasks for long periods of time on the machines. Thus, the stability of Ace Computers' technology is very important. We have been using their workstations since 2012 and have never had an issue."
Ace Computers deep learning workstations feature:

Nearly silent operation—they can be placed in common work areas with no disruption.
Energy-efficient compatibility with standard electrical outlets.
High-performance NVIDIA GPUs.
8+ processor cores.
512+ GB memory.
80+ TB of built-in storage.
Fixed/hot-swap drive bays for hard drives and SSDs.
Reliability: smart design, quality parts, and quality construction that ensures many years of productive service.
Personalized support without the wait time: Ace Computers' engineers are available to provide support for the technology they build.
Ace Computers CEO John Samborski said, "Workstations have been our specialty for many years. Deep learning workstations, in particular, are an exciting field. It's thrilling for us to see how our technology is making a definable difference in the world."
Leading custom computer builder and HPC cluster specialist, Ace Computers currently holds the following contracts: SEWP V, CCS-2, GSA, WSIPC, PEPPM, State of Wis., State of Ga. The company is a Woman-Owned Small Business custom technology systems manufacturer and reseller for the public sector as well as the commercial sector. Channel partners include Intel, Supermicro, NVIDIA, Mellanox and Samsung among others. Ace Computers is an authorized Microsoft Surface Partner. An industry leader since 1983, the company is a 2016 HPCwire Readers' Choice Award finalist. In addition to some of the finest academic institutions in the U.S., long-term clients include the U.S. Department of Energy and the U.S. Department of Defense. In addition to our Greater Chicago headquarters, Ace Computers has locations in New Jersey, Pennsylvania, Virginia, and Nevada. To contact Ace Computers, call 1-877-223-2667 or 1-847-952-6900 or visit http://www.acecomputers.com/TopProducts.asp