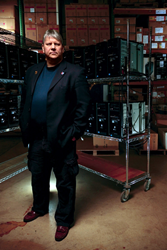 Schools are finding that desktops are still the most powerful, versatile and cost-effective options for both labs and classrooms.
CHICAGO (PRWEB) February 04, 2016
Ace Computers just announced they will be showcasing custom desktops at a series of education shows in the next two months. This is part on an ongoing campaign to accommodate the resurgence of desktops in the classroom.
The primary reason for this trend is that desktops perform better than mobile devices in many areas including: reduced cost, more processing power, larger screen size, better keyboard ergonomics, ease of upgrading and repairing, sturdiness and reliability.
Ace Computers CEO John Samborski said, "Schools are finding that desktops are still the most powerful, versatile and cost-effective options for both labs and classrooms. Laptops and tablets don't eliminate the need for desktops. Educators and administrators know that a mix of technology promotes an optimal learning environment."
Ace Computers has been building desktops designed specifically for the pre-k through post-grad education environment for more than 30 years; they are experts in the education procurement process.
The Coordinator of Network Operations for a district that has ordered over 2,300 desktops and servers from Ace Computers over the last five years, said, "Being in the educational field we need to do everything that we can to maintain cost. Ace Computers has worked with us to keep the cost of computer systems down while still maintaining a high level of quality. Because of this I have recommended Ace Computers to others and will continue to recommend them."
At the shows, Ace Computers experts will demonstrate the capabilities and advantages of their desktops and other education-related technology. They will also be available for consultations and brainstorming. Following is a list of upcoming Feb. and March education shows that Ace Computers will be attending:
2/21-2/24: PETE & C; Hershey, Pa.
The Pennsylvania Educational Technology Expo and Conference (PETE&C) is a statewide event focused on technology in the educational field. At the event, 100s of exhibitors will be showcasing their latest technology products and services for teachers, administrators, technology directors, school board members and more.
2/24-2/26: NCCE; Seattle
More than 130 education and technology vendors will showcase their products and services during NCCE 2016. The show offers resources and solutions for instructional and administrative software, hardware, technology management, staff development, curriculum resources, security, and more.
2/28: Brainstorm; Wisconsin Dells
The goal of the conference is for K-20 techs to network with their counterparts throughout the Midwest and to connect with technology vendors that tailor their products for the K-20 community.
3/17-3/19: CUE; Palm Springs, Calif.
This is the largest and oldest education technology conference in California, and among the largest in the U.S. Educators, technology coordinators, administrators, parents, students and everyone else that is interested in how technology can support student achievement will find what they are looking for at the three-day conference.
3/29-3/31: NCEA; San Diego, Calif.
The convention and expo is the largest private-education association gathering in the U.S. Those participating represent all aspects of Catholic school and faith-based education from pre-K through post-grad. The convention is geared toward acquiring knowledge, developing technology resources, and networking.
Leading custom computer builder and HPC specialist, Ace Computers currently holds the following contracts: SEWP V, GSA, WSIPC, PEPPM, State of Wis., State of Ga. The company is a Woman-Owned Small Business custom technology systems manufacturer and reseller for the public sector as well as the commercial sector. Channel partners include Intel, Supermicro, NVIDIA, Mellanox and Samsung among others. An industry leader since 1983, the company is a 2015 HPCwire Readers' Choice Award finalist. In addition to some of the finest academic institutions in the U.S., long-term clients include the U.S. Department of Energy and the U.S. Department of Defense. In addition to our Greater Chicago headquarters, Ace Computers has locations in New Jersey, Pennsylvania, Virginia, and Arizona. To contact Ace Computers, call 1-877-223-2667 or 1-847-952-6900 or visit http://www.acecomputers.com/TopProducts.asp
###