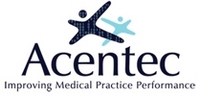 We are working hard to educate medical facilities about what to expect with the stimulus
Irvine, CA (PRWEB) November 3, 2010
Acentec, a leading provider of ambulatory healthcare information systems and full suite of complementary technology products to the medical community, recently received its "Stimulus Qualifying" Certification for electronic medical records services.
Unfortunately, not all EMR providers will be certified by 2011 when the program rolls out, which means many medical offices will not qualify for the stimulus reimbursement. Medical facilities should carefully research their electronic health records provider to see if they are certified. Any provider certified for the stimulus is required to provide specific wording in all marketing materials, which should make it clear of its status as an approved EMR provider.
However, many EMR providers fear stimulus disbursement will be slow to happen, much like Medicare payments. With so many new regulations and hefty documents related to stimulus qualification, it's expected that the process may be slow at first.
"We are working hard to educate medical facilities about what to expect with the stimulus," stated Jeff Mongelli, CEO of Irvine, CA based Acentec Inc., "It is imperative to find a qualified and certified EMR provider who will help you be eligible for stimulus reimbursement."
If your medical facility is seeking to upgrade to electronic health records under the new Stimulus Plan, make sure to see if your EHR provider is qualified so that you receive your full stimulus reimbursement. For more information visit Acentec's website.
About Acentec Inc.
Acentec Inc. is a leading national provider of fully integrated Electronic Health Records. We offer turn-key solutions engineered to maximize a physician's ROI. The products have been built around MedInformatix's 25 years of medical practice workflow expertise. Our product is designed on a single database using Microsoft SQL. Whether the installation is a single physician who went live in 1994, a national Cardiology practice, or one of 15 other specialties we service, we accommodate their needs.
###