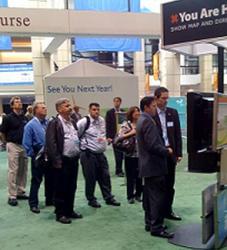 The Assembly is an extremely busy event and we needed a system where the attendees could quickly and easily find what they were looking for - and how to get there. Additionally, we have made a significant commitment to the environment and wanted to provide a green version of the directory and floor map
Alexandria, VA (PRWEB) July 21, 2009
MarketArt announced today that it has signed an event marketing agreement with The American College of Emergency Physicians (ACEP) to provide its You Are Here interactive map and directory system to the organization's annual conference. The ACEP Scientific Assembly is the world's most comprehensive forum for emergency medicine education. This year's Assembly will be held October 5-8, in the historic city of Boston.
The You Are Here system will be deployed on multiple touch-screen stations distributed throughout the show floor. The system helps attendees quickly find their way to the exhibitors, products and services of highest interest to them, and enables exhibitors to extend their reach, promote their offerings and attract qualified traffic to their booths. For both attendees and exhibitors working with tight schedules and even tighter budgets, You Are Here enables higher productivity and a strong return on investment.
The ACEP Scientific Assembly presents the industry's best educational and product offerings. Attendees learn new skills, explore new products and services, and connect with other emergency care practitioners. ACEP conferences provide over 300 world-class educational sessions in addition to interactive workshops and skills labs. Over 300 industry-leading companies exhibiting will be presenting cutting-edge technologies and industry trends in the Assembly's exhibition hall.
ACEP chose the You Are Here system to enhance their attendees' experience at the event and to provide their exhibitors with additional sponsorship opportunities. "The Assembly is an extremely busy event and we needed a system where the attendees could quickly and easily find what they were looking for - and how to get there. Additionally, we have made a significant commitment to the environment and wanted to provide a green version of the directory and floor map," commented Stephanie Batson, ACEP Exhibits Manager.
About MarketArt - http://www.MarketArt.com
MarketArt is a digital media technology company that develops and sells interactive media and advertising systems to both online and to out-of-home markets. The company is the leading provider of electronic directories and media systems to the events and trade show market with its You Are Here products.
You Are Here is an event marketing, exhibitor promotion and attendee information system for trade show managers, exhibitors and attendees. Its core is an interactive, map-based, directory and advertising platform. You Are Here leverages user-content, search, social and digital media into a powerful event marketing 'magnet' that connects buyers and sellers.
The system is deployed both on a show's web site and on the show floor itself and is employed by many of the largest trade shows in the U.S. You Are Here can replace traditional printed materials and is especially important to environmentally 'green' shows. The company has offices in Alexandria, VA and Albany, NY.
About The American College of Emergency Physicians - http://www.acep.org
The American College of Emergency Physicians (ACEP) is the oldest and largest national medical specialty organization representing physicians who practice emergency medicine. With nearly 27,000 members, ACEP is the leading continuing education source for emergency physicians and the primary information resource on developments in the specialty.
###