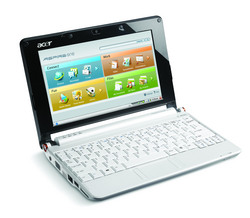 Gnomes Stole My Aspire ONE.
New York (Vocus) February 5, 2009
It's official! The winner has been announced for the first-ever Aspire ONE Video Contest. Sponsored by Acer, the third largest manufacturer of personal computers in the world, the contest's entries were judged by an international audience of YouTube, MySpace and FaceBook viewers and bloggers. They've now voted experienced hang glider pilot and filmmaker David Aldrich as the ultimate winner of an outstanding First Prize Gaming Package that includes an Aspire ONE netbook, an Xbox 360, Microsoft Zune 8 GB MP3 player and cash award.
Aldrich's lofty production, "Hang Gliding with the Aspire ONE," truly captures the free spirit of the Aspire ONE's portability and lightning fast connectivity speed. In his film the adventurous pilot uses the ONE before, during and after a soaring hang gliding flight, dramatically illustrating the device's extreme "use it anywhere" convenience, ruggedness, speed and good looks.
The winner of the Second Prize and the "More Music Prize Pack" was "Gnomes Stole My Aspire ONE." In it comedy and special effects tell the story of one frustrated man's battle with sneaky "Technology Gnomes" who've stolen his prized Aspire ONE to use its "instant accessibility" in their mushroom lair on his front lawn.
"Features," the Third Place winner of the "Less Music Prize Pack" boasts high production values and sexy close-ups of the Aspire ONE's many popular features and sleek, polished design--matched with a lush soundtrack--that give the video a look and feel reminiscent of fine luxury car commercials.
As informative as they are entertaining, all three prize-winning films and many other entertaining entries can still be viewed online via YouTube or at http://www.wantonecontest.com, where consumers can also learn more about the exciting Acer product that inspired such fierce competition.
Since its unveiling in July 2008, the ultra light-weight and compact Aspire One has received worldwide attention and distinctions ranging from "Laptop of the Year Award" to the distinguished "Editor's Choice Award" by LAPTOP Magazine. The Aspire One features a full keyboard, Windows XP Home Edition, Wi-Fi and 3G connectivity, and is available in four colors from fine retailers such as Best Buy, Costco, Radio Shack and Wal-Mart. Retailing for less than $400, the ONE is a popular choice for students, travelers and anyone looking for an extremely affordable, incredibly portable, way to stay in touch with the world.
Since its founding in 1976, Acer has constantly pursued the goal of breaking the barriers between people and technology. Focused on marketing its brand-name IT products around the globe, Acer ranks as the world's No. 3 vendor for total PCs and No. 2 for notebooks, with the fastest growth among the top-five players. A profitable and sustainable Channel Business Model is instrumental to Acer's continued growth, while the successful mergers of Gateway and Packard Bell complete the company's global footprint by strengthening its presence in the U.S., and enhancing its strong position in Europe. Acer Inc. employs 5,000 people worldwide. 2007 revenues reached US$14.07 billion. See http://www.acer.com for more information.
Acer and the Acer logo are registered trademarks of Acer Incorporated. Microsoft and Windows are registered trademarks of Microsoft Corporation. Intel and Pentium are registered trademarks of Intel Corporation. Other trademarks, registered trademarks and/or service marks, indicated or otherwise, are the properties of their respective owners.
Cristina Gualteri
Press Office
Circle Line Marketing & Communication
Via Grazzini 7, 20158 Milano - Italy
tel. +39 02 332231.25 - fax +39 02 33223155
###