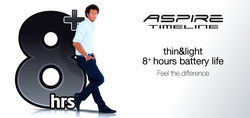 What would you do with the Acer Aspire 8+Hours of power?
New York, NY (PRWEB) April 20, 2010
In 2008, Acer introduced its popular Aspire "Timeline" laptop and organized an Internet contest in which consumers were asked to submit creative, competitive videos illustrating what they would do with the "Eight Plus Hours of Power" Timeline gives them on a single battery charge. The unparalleled success of that contest prompted Acer to launch an even more exciting, two-phase Internet competition in 2009, and the Phase Two winners of that contest have just been announced. And from a giant futuristic "chicken" to a group of artists performing at 'hyper-speed," the two-minute films these winners produced set a whole a new standard for creativity, humor, technical skill and, above all, timeliness.
Phase Two's first winner, in the category "Most Viewed," is a film appropriately called "Timeline," submitted by John Leonard. This video, which uses speeded-up camera techniques, shows eight hours of frenetic activity inside a crowded artist studio in which young men and women are constructing architectural models. The passage of time is also shown through the day-to-night changes of light both within and without the studio. "Timeline's" extreme popularity may also be due to the fact that it's just plain fun to watch so many attractive, artistic people doing such creative, productive work during an eight-hour day. At last count, this entry received more than 90,000 views.
The next winner, under the category, "Favorite" was also the overall winner of Phase One of the original contest. Tim Ackerman, an aspiring children's book author, produced a video called "Acer 8 Saves the World", which demonstrated the longevity of the notebook's power by filming his pursuit of a renewable fuel source, using speeded-up camera techniques and a time counter.
Finally, one entry took the prize for the two remaining categories, "Most Comments" and "Most Promoted." Winner Matt Albano's video, entitled, "From 8+ Hours in the Future," is an entry that features Albano himself, playing himself, both in the current and future sense.
No "chicken" when it comes to promoting his own work, Albano went all out in publicizing his video and Acer with online "guest appearances" and blogs. He also appealed to his viral audience's sense of humor by playing a guy who's shocked when his future self, dressed in a giant chicken mascot costume, appears out of nowhere, from eight hours in the future, to announce that his Timeline laptop is still powered-up from a single charge. As for why he's going to be wearing a chicken suit eight hours in the future…well, that's another story!
To view all the entertaining entries in Phase Two of Acer's second video contest, and to find out more about the $20,000 worth of cash and prizes the winners will receive, please visit http://www.acer8hourcontest.com .
About Acer
Since its founding in 1976, Acer has achieved the goal of breaking the barriers between people and technology. Globally, Acer ranks No. 2 for total PCs and notebooks. A profitable and sustainable Channel Business Model is instrumental to the company's continuing growth, while its multi-brand approach effectively integrates Acer, Gateway, Packard Bell, and eMachines brands in worldwide markets. Acer strives to design environmentally friendly products and establish a green supply chain through collaboration with suppliers. Acer is proud to be a Worldwide Partner of the Olympic Movement, including the Vancouver 2010 Olympic Winter and London 2012 Olympic Games. The Acer Group employs 7,000 people worldwide. 2009 revenues reached US $17.9 billion.
See http://www.acer-group.com for more information.
© 2010 Acer Inc. All rights reserved. Acer and the Acer logo are registered trademarks of Acer Inc. Microsoft and Windows are registered trademarks of Microsoft Corporation. Intel and Pentium are registered trademarks of Intel Corporation. Other trademarks, registered trademarks, and/or service marks, indicated or otherwise, are the property of their respective owners.
###