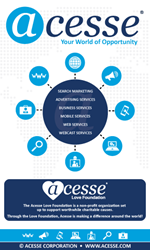 'This will be the Acesse Love Foundation's second major charitable donation and we are so glad to announce that it will be to the Minnesota Innocence Project,' said Bob Kinsellla
Minneapolis, MN (PRWEB) October 17, 2013
Executive Members of Acesse will represent the Acesse Love Foundation at the 2013 Benefit for Innocence put on by the Minnesota Innocence Project in representation of the Acesse Love Foundation. The Benefit will take place at the Graves Hotel in Minneapolis, MN on Thursday, October 17, 2013 from 5:00 p.m. – 8:30 p.m.
The Minnesota Innocence Project works to free people that were imprisoned for crimes they did not commit and to keep the innocent from being wrongly convicted. The Acesse Love Foundation feels strongly about supporting this cause and will participate in the 2013 Benefit for Innocence Gala as a $25,000 sponsor.
"This will be the Acesse Love Foundation's second major charitable donation and we are so glad to announce that it will be to the Minnesota Innocence Project," said Bob Kinsellla, President of Acesse, "It is such a valuable organization and I cannot begin to express how excited we are to keep giving to worthwhile charitable causes."
The Acesse Love Foundation is a non-profit organization that supports worthwhile charitable causes. Acesse vows to donate a percentage of its annual profits to the foundation.
Acesse.com is a division of Acesse Corporation, and is registered under the laws of the state of Nevada, USA. Acesse.com provides search, advertising, and marketing services to small businesses and individuals around the world.