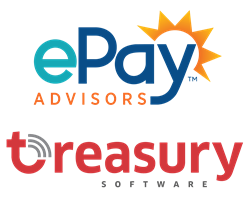 "This partnership will provide our members and clients with the tools needed to maintain a competitive advantage in the cash management space," said Pamela T.Rodriguez, AAP, CIA, CISA, President & CEO of ePayAdvisors™.
Birmingham, AL (PRWEB) April 19, 2017
"Treasury Software provides cash management and electronic payment solutions to industries of all sizes. Their solutions range from automatic collection or disbursement of payments; creation and transmission of check files; automation of the bank, credit card or non-financial reconciliation process and more," said Pamela T.Rodriguez, AAP, CIA, CISA, President & CEO of ePayAdvisors™.
"We believe that all businesses and organizations – regardless of size – should have access to the ACH Network," said Glenn Fromer, CPA, Director at Treasury Software. "We're committed to helping others create ACH files from common sources of data, including Excel, QuickBooks and SQL Server. Treasury Software is proud to work with ePayResources to help clients create and transmit ACH files. ePayResources (through its predecessor EastPay) has been a client since 2006, and we look forward to continuing - and expanding - on that relationship.
About ePayAdvisors™
ePayAdvisors™ is a wholly-owned subsidiary of ePayResources™, the second-largest Regional Payments Association member of NACHA. ePayAdvisors™ provides payments risk management, compliance, and consulting services to financial institutions and businesses throughout the U.S. Our suite of services includes Audits and Risk Assessments for financial institutions for ACH, Remote Deposit Capture, and Wire Transfer; ACH Audits for Third-Party Senders and Service Providers; and customized payments consulting for financial institutions and corporations. Visit http://www.ePayAdvisors.com for more information. Follow us on Twitter at @ePayAdvisors_.
Treasury Software
Founded by Certified Public Accountants in 1999, Treasury Software believes that all businesses - regardless of size - deserve to have access to the electronic banking network. Treasury Software designs and develops ACH Universal, software that enables users to create ACH files. Additional product lines include Positive Pay file creation and Bank Reconciliation solutions. Treasury Software is actively involved in the banking and ACH community, and participates in Federal Reserve Bank and NACHA work groups. Treasury Software is a Microsoft Gold Certified Partner, a QuickBooks Silver Developer and a NACHA Alliance Member. For more information or a free full working trial - including free phone support - please visit treasurysoftware.com. Follow the company on Twitter: @gotreasury.