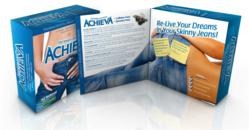 According to company spokesman Jeff Lefkowitz, Our packaging is #1 in the diet supplement space and instantly will grab a customer's attention!
Weston, FL (PRWEB) March 26, 2012
National and international distribution partners have recognized the unique nature of Achieva Weight Loss Formula, the number one new diet pill and they've scrambled to get their hands on it. At the beginning of the year, Succeed Laboratories, makers of Achieva, opened the doors to wellness centers, nutritional supplement retailers, and pharmacies, and after just one quarter, the launch has provided the most dramatic sales growth in company history.
Achieva is a "help you lose weight fast" pharmaceutical grade, caffeine-free diet pill that curbs food cravings, allowing the dieter to eat less while still feeling full and satisfied. The proprietary formula includes natural appetite suppressant African Hoodia and natural weight loss supplement Maqui Berry.
The Achieva package contains 60 capsules enclosed in four blister packs with 15 cavities in each, providing convenience for everyday on-the-go lifestyles. The blister packs are enclosed in a full-color gloss box with the Achieva logo prominently embossed on five sides. The display panel opens like a book and clearly lists product ingredients. A 60-count box (or 30-day supply) lists for $49.95. According to company spokesman Jeff Lefkowitz, Achieva's packaging is #1 in the diet supplement space and instantly will grab a customers attention,
For more information about Sales and Distribution opportunies for Achieva, visit http://achievaweightloss.com/affiliates.php
About Succeed Laboratories, LLC
Succeed Laboratories, LLC is a nutraceutical manufacturing company, founded by industry veterans committed to developing consumer products with lifelong benefits of sound nutrition and wellness practices. We are committed to the development of innovative, science-based products, manufactured to the highest standards of potency and purity with superior ingredients.