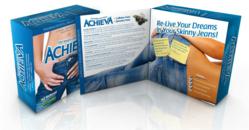 "Weight loss becomes an investment in both health and wealth" says Jeff Lefkowitz, company spokesman
(PRWEB) March 30, 2012
The less healthy the lifestyle, the more the cost of health and life insurance can go up. Succeed Laboratories, the makers of Achieva™ Weight Loss who introduced their product as a way to get back into a favorite pair of jeans, are now making an appeal to the financial lifestyle. "We want to show you how our program can slim your body and fatten your wallet," says Jeff Lefkowitz, company spokesman.
According to eHealthInsurance, "For a woman, moving the needle from overweight to normal weight will save about $31 each month in premiums or $372 annually. For a man, going from overweight to the normal range will net about $29 a month or $348 annually." And a report from LifeInsurance.com confirms that formerly overweight policyholders who slimmed down are able to obtain a reconsideration of life insurance rating classes on existing policies. "Weight loss becomes an investment in both health and wealth," continues Lefkowitz.
Expressing its dedication to weight loss and establishing a healthier lifestyle, the makers of Achieva™ are offering 100 complimentary ($49.95 value) 30 day supply of Achieva to those that qualify. To obtain a month's supply of Achieva™, all that is needed is a submission of a self photo that is less than 30 days old and agree to Achieva's Terms and Conditions. All rules and requirements will be posted on http://www.achievaweightloss.com on April 15, 2012.
Achieva™ (http://www.achievaweightloss.com) is a "help you lose weight fast" pharmaceutical grade, caffeine-free supplement that curbs food cravings, allowing the dieter to eat less while still feeling full and satisfied. The proprietary formula includes natural appetite suppressant African Hoodia and natural weight loss supplement Maqui Berry.
Achieva™ on Facebook: See what people are saying on http://www.facebook.com/achievaweightlossformula Click "LIKE and JOIN the conversation.
About Succeed Laboratories, LLC
Succeed Laboratories, LLC is a Nutraceutical manufacturing company founded by industry veterans committed to developing consumer products with lifelong benefits of sound nutrition and wellness practices. We are committed to the development of innovative, science-based products, manufactured to the highest standards of potency and purity with superior ingredients.