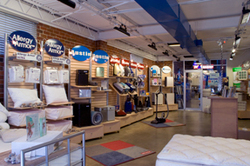 Since we started testing a portable air conditioner up here, our work area is so much more comfortable and I'm able to concentrate on work without being distracted by the heat.
Altanta, GA (PRWEB) May 20, 2010
Employees at AchooAllergy.com have begun supplementing their central air conditioning with the same portable air conditioners they have recently added to their new product offering. Summers are hot and humid in Atlanta, home of AchooAllergy.com's product showroom and the company's headquarters – and the spacious former-warehouse is hard to keep cool.
As one would expect, AchooAllergy.com's office is an allergy friendly environment. Housed in a remodeled former industrial warehouse, the floors are polished concrete without a hint of carpeting, and employees work in open, high-ceilinged rooms with minimal extras. This makes the space easy to clean and cuts down on places where dust mites, pollen, mold spores, and other allergens could collect. But keeping the office warm enough in winter and sufficiently cool in summer is a logistical and financial challenge.
That's changed since workers have switched on some strategically placed portable air conditioners, a new product category that was launched by AchooAllergy.com just this month. Product Specialist Julie Russell says, "We used to work downstairs, but now we operate customer service from a really cool elevated loft upstairs – and the room can get kind of hot, even with the central AC running. Since we started testing a portable air conditioner up here, our work area is so much more comfortable and I'm able to concentrate on work without being distracted by the heat."
Using products that they sell is nothing new to AchooAllergy.com employees, who are required to be well-versed on the benefits and features of the allergy relief products the company offers. Company founder P. Cade McDonald explains, "I started this company because I struggled to control my allergies. It's a matter of personal pride to me that each of the items we offer provides proven relief from allergies – and I like my colleagues to be able to attest to the fact themselves."
The portable air conditioners that AchooAllergy.com has added to its robust selection of allergy relief products are no exception. Offering the top brands, including DeLonghi, Haier, Friedrich, Royal Sovereign and Sunpentown, AchooAllergy.com continues the tradition of selecting only exceptional products to sell to their customers – and knowing, personally, that these products really work.
By keeping the air cool, portable air conditioners contribute to the allergy friendly environment AchooAllergy.com strives to uphold. Not only do portable air conditioning units lower the temperature, but they also help keep humidity in check, both of which are factors that control dust mite populations and mold growth. With employees keeping cool and breathing better, portable air conditioners have now joined the ranks of AchooAllergy.com's tried and tested allergy relief products.
AchooAllergy.com specializes in allergy relief products that facilitate environmental control of allergens. For almost a decade, the company has been proud to offer the widest selection of allergy relief products, all meticulously tested for quality and effectiveness. Their super-fast shipping and exceptional customer service sets them apart from their competitors and demonstrates their unwavering dedication to helping their customers breathe better.
For more information, please contact Cade McDonald, CEO at 1-800-339-7123.
# # #