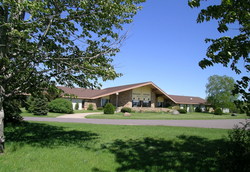 The Immediacy of a Direct Contact with God Right Here and Right Now
Wisconsin Dells, WI (Vocus) September 23, 2009
As part of its very extensive fall calendar, the Miracles Healing Center in Wisconsin Dells, Wisconsin, is preparing yet again for another Course In Miracles teaching and healing convention: "The Immediacy of a Direct Contact with God Right Here and Right Now", which is scheduled to begin on the evening of Friday, September 25.
The convention, which is expected to draw a sizable international gathering will be hosted and facilitated by illuminate Course in Miracles teachers, Kathy "Cybil" Yorke and Greg Sacra.
Explaining their inspiration, aspiration and program for the "The Immediacy of a Direct Contact with God Right Here and Right Now", Cybil Yorke said, "There is only one true story -- The Christ Story. It's not only Jesus' story but your story in your acceptance of yourself as The Light of the World, transformed and reborn out of your human identity as a body here in time and space on planet earth.
"It is generally believed, and I also believed that Jesus Christ, as a human being, was different from you or me and was somehow endowed with some magical, mystical powers that made him so special and unique that I could never live up to him or become that. It was considered blasphemous and arrogant to think that I too face the same decision and temptations he did in his overcoming of death and his recognition of himself as the Son of God.
Yorke continues, "However, I have come to know through the process of my own enlightenment that this long cherished belief is literally untrue. There is no essential difference between Jesus Christ and any other human being. I am exactly what he is - 'the Holy Son of God Himself'.
"This weekend is set up for the re-enactment of the Christ story in the 3-day weekend: birth, baptism, the wilderness, sermon on the mount, his healing ministry and resurrection.
Yorke then gave an overview of the entire program, saying, "On Friday night the birth of the Christ in you is brought about by your desire that there has to be something more to life than having a good job, healthy children, a good relationship and enough money to house yourself in proper style, to retire, and finally to get sick and die. Of course, praying that you "go" before your children and spouse, AND hopefully, are a "good" person or neighbor along the way. I just couldn't come to terms with the idea that no matter how good a person I am, I'm still going to have to get old (assuming I live long enough), and finally die of some excruciating death (like my Dad, of Alzheimer's Disease) in order to get to know my Creator? This may be enough for you but, it wasn't for me. Is that all Life has to offer? The answer to that question is Yes, if you believe this is life. How utterly futile and ridiculous! I asked for Help. I woke Up!
"This weekend, amazingly enough, the ever elusive answer to the "meaning of Life" is given, and the Resurrection is accomplished in you. You will discover the Glory that is you as you remember that indeed you are your Father's Son and have been created perfectly by God. You have never left heaven and have never been separate for one moment from your Source or God. That is Reality. As the Course In Miracles clearly states, "Nothing Real can be threatened. Nothing unreal exists"
"Saturday morning, we will be Baptized in The Holy Instant, and look at the Temptation to remain human in the Wilderness experience of wanting to remain in an earthly love based on fear (which is the protection and possession of that love), and finally death. Also included in that morning, The Sermon on The Mount and The first 50 Lessons of A Course In Miracles Workbook which offer an undoing of the perceptual human framework of comparison, guilt and a judgmental limited belief system that keeps your human fear-based system in place. The expansion of mind that occurs as you are undone in a free-fall into love is both scary and the most exciting thing you've ever done...ever! As Jesus Christ says in the Course, 'A tiny moment of surprise, perhaps, will make you pause before you realize the world you see before you in the light reflects the truth you knew, and did not quite forget in wandering away in dreams.'
"Saturday Afternoon is not only for beginners in this transformative awakening but, for any individual who is knowingly undergoing their awakening. We will be in the Physiology of the Enlightening Mind, the reversal of the aging process and will spend most of the afternoon in the healing and regeneration that will automatically occur as we look at the body as described in the Ancient Hindu System of Chakras and the Christian Book of Revelation. This idea of 'Touching the Hem of His garment' is very exciting to me because healing is so effortless.
"Sunday is the celebration of Christ's Second Coming - YOU! The physical body will now be recognized 'as a device for communication only' and no longer forced 'to purposes beyond its scope, and to exalted aims which it cannot accomplish'. You will experience your glory as you were created by God. All are invited and welcome to come for any or all of the weekend.
Come just as you are."
For Program and Registration details, visit: http://www.acourseinmiraclesonline.com/direct_contact.htm
###