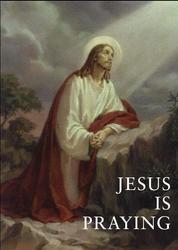 Lanham, MD (Vocus) September 15, 2009
In response to overwhelming demand, A Course In Miracles International (ACIMI) today released online a free Ebook version of its very popular prayer booklet, "Jesus Is Praying", which comprises an anthology of prayers and meditations given by Jesus Christ in the New Testament of The Holy Bible and A Course In Miracles.
Thousands of copies of this and other prayer booklets, which have been translated into about a dozen languages, were freely distributed by ACIMI miracle healers and illuminate teachers, as part of their relief efforts in New York City, following the September 11 disaster in 2001.
The outstanding characteristic of the prayers taught by Jesus Christ in A Course In Miracles is that they offer a real and immediate contact with God. They make no allowance for a continuing existence in the state of separation, desolation, despair and death that is the human condition. Jesus instructs thus in Lesson 183 of the workbook, "Turn to the Name of God for your release, and it is given you. No prayer but this is necessary, for it holds them all within it. Words are insignificant, and all requests unneeded when God's Son calls on his Father's Name. His Father's Thoughts become his own. He makes his claim to all his Father gave, is giving still, and will forever give. He calls on Him to let all things he thought he made be nameless now, and in their place the holy Name of God becomes his judgment of their worthlessness.
"All little things are silent. Little sounds are soundless now. The little things of earth have disappeared. The universe consists of nothing but the Son of God, who calls upon his Father. And his Father's Voice gives answer in his Father's holy Name. In this eternal, still relationship, in which communication far transcends all words, and yet exceeds in depth and height whatever words could possibly convey, is peace eternal. In our Father's Name, we would experience this peace today. And in His Name, it shall be given us."
The introduction to the prayer book, "Jesus Is Praying", describes the prayers in this way, "The bright power of these words of prayer spoken for you, and by you, in the name of Jesus Christ is far beyond any dim idea within the darkness of your human identity. Nothing in this world can even remotely compare to the joyous healing experience possible through the application of God's Love they will provide.
Use them. Depend on them. These prayers are an immediate direct communicating link between this isolated place of pain, loss and death and the certain freedom of eternal life that is the universal Love of God."
The Ebook, "Jesus Is Praying" is freely available for immediate download on request at: http://www.acourseinmiraclesonline.com/jesus_is_praying_ebook.php
###