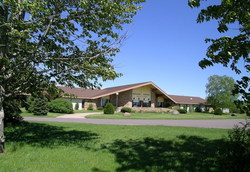 an oasis in time for travelers out of time.
Lanham, MD (Vocus) July 20, 2009
Miracles are natural. When they do not occur something has gone wrong.
"Wow, if regular church service was like this, I would go every day", exclaimed an overjoyed participant at the 12 Steps and A Course In Miracles convention at the Miracles Healing Center in Wisconsin Dells, WI.
The event titled 12 Steps to Enlightenment (How it really works) drew to a close at about 5:00 PM on Sunday, and appears to have made good on its promise to serve as an avenue for the "miraculous transformation of our individual minds and bodies". The common emotion expressed by participants was that of a deep abiding joy and a sense of renewal or rebirth.
ACIM Teacher, Kristen Kloostra reported that, "the weekend was amazing. It was a masterful demonstration of the fact that the 12-Step program is indeed A Course In Miracles. It catapulted me into an experience of the magnitude of singular creative reality and gave me simple tools that I can use to remain in that awareness always. It was so simple, so creative and so reasonable. The presenters drew from a broad array of creative expressions to bring about the experience of pure love and light. I am profoundly grateful."
A video of the Master Teacher of A Course In Miracles shown during the morning session puts the occurrence in context using the following explanation, "the recognition that you were inflicting pain only on yourself will make you laugh. The whole universe is literally your dream association. Now you are living in the moment; therefore you constantly release all your previous relationships without the necessity to predict or verify the results. Your mind has changed despite your intentions to stay in a relationship of time and space. It's a miracle.
The cellular association that you maintain as a body separate from God, your brother, and everything may begin to go through major shifts. The resurrection - the transformation of the human mind to God Mind - is physical. All your past memories that keep you bound to a space time separate identity simply, fade away. You disappear into the heart of God"
Teacher of God, Cybil Yorke described the event as, "an Impressive weekend." She continued, "Clare Lamanna and her fellow presenter are truly a dynamic duo. After practicing both the 12 Step Program and A Course in Miracles for years, the two programs came alive in a whole new way for me… The weekend has inspired and dedicated me beyond where I've ever been before, to focus my intentionality ever more fully on the active remembrance of God as a cellular reprogramming. Wow! Mind-blowing. I am brand new. What an ecstatic discovery - freeing."
In their closing address, the presenters described the Miracles Healing Center as "an oasis in time for travelers out of time."
For more information about 12 Steps to Enlightenment (How It Really Works), visit the event website at http://www.acourseinmiraclesonline.com/12stepacim/.
###