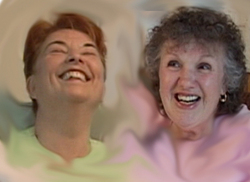 A Course In Miracles Mind Training: Workbook 101
Wisconsin Dells, WI (Vocus) August 29, 2009
Friday night marked the start of what promises to be a spiritually transformative and soul-enriching weekend at The Miracles Healing Center in Wisconsin Dells, WI, as illuminate teachers, Rosie Kearns and Jan Hollett introduced the program for the weekend intensive entitled, "A Course In Miracles Mind Training: Workbook 101".
In her opening address, Rosie Kearns reminded participants of the individual necessity for the experience of Truth in a world predicated on falsity, and shared highlights of the story her own personal spiritual odyssey and enlightenment.
Kearns stressed the importance of uncompromising application of the lessons of the Workbook of A Course In Miracles , as the tried and true method of illuminating the mind, and read the portion of the workbook introduction in which Jesus Christ states, "Some of the ideas the workbook presents you will find hard to believe, and others may seem to be quite startling. This does not matter. You are merely asked to apply the ideas as you are directed to do. You are not asked to judge them at all. You are asked only to use them. It is their use that will give them meaning to you, and will show you that they are true."
Kearns emphasized, "Remember only this; you need not believe the ideas, you need not accept them, and you need not even welcome them. Some of them you may actively resist. None of this will matter, or decrease their efficacy. But do not allow yourself to make exceptions in applying the ideas the workbook contains, and whatever your reactions to the ideas may be, use them. Nothing more than that is required."
In an edifying exploration of lesson 14, Co-presenter, Jan Hollett touchingly communicated the profound gratitude she experienced in learning, as stated in the lesson, that "God did not create a meaningless world."
She spoke of how indescribable joy immediately replaced the lifelong trauma she had suffered in an impossible attempt to reconcile a loving God with a world of "the D's - depression, devastation, disaster and death".
Hollett enthusiastically underscored the first paragraph of lesson 14 as she read, "God did not create a meaningless world: The idea for today is, of course, the reason why a meaningless world is impossible. What God did not create does not exist. And everything that does exist exists as He created it. The world you see has nothing to do with reality. It is of your own making, and it does not exist."
The two presenters who also appear in the acclaimed documentary, "A Course In Miracles Unleashed ," captivated the audience with their ebullient energy of love, light and laughter, triggering many aha moments for individual participants, and demonstrating the unlimited communication possibilities of enlightened mind.
A video presentation of the Master Teacher of A Course In Miracles, entitled "This Is Our Recipe For The Universe", brought the evening to a close, and united the minds in a transcendent order of Thought.
The event is scheduled to continue through the weekend and end at lunchtime on Sunday, August 30, 2009.
More information, a full event program and registration details for "A Course In Miracles Mind Training: Workbook 101", can be found at: http://www.acourseinmiraclesonline.com/workbook101.htm.
###