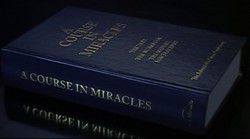 You cannot deny your reality as whole and perfect as God created you, then get on your knees and ask for God to validate your illusion of yourself
Lake Delton, WI (Vocus) September 14, 2009
In an address on Sunday to hundreds of Christians, many of whom were new to the teachings of Jesus Christ, particularly in A Course In Miracles, illuminate teacher, Mitch O'Connor, stunned the congregation by telling them that they were not really Christians, and furthermore had no idea what prayer actually meant. O'Connor declared forthrightly that "the only legitimate claim to the title of 'Christian' lies in the unqualified acceptance of one's own Christhood, not in an ability to regurgitate scriptural verbiage."
"Prayer is an act of communion with God, in the recognition of His Fatherhood, which is what your Christhood is," continued O'Connor. "There is no time in it. It is the recognition that everything is an idea. Everything has already been created, and perfectly. It recognizes no need. It engenders an experience of pure love, and the peace that passeth understanding. That is what's happening here. That's all we are doing now."
"You cannot deny your reality as whole and perfect as God created you, then get on your knees and ask for God to validate your illusion of yourself," explained O'Connor. "How can He? You have already denied Him. Listen to how Jesus Christ expresses this in A Course In Miracles. He says, 'Temptation, then, is nothing more than this; a prayer the miracle touch not some dreams, but keep their unreality obscure and give to them reality instead. And Heaven gives no answer to the prayer, nor can a miracle be given you to heal appearances you do not like. You have established limits. What you ask is given you, but not of God Who knows no limits. You have limited yourself.' That's why some of you call me up and tell me your prayers are not being answered. That is absurd. Every true prayer is answered immediately by your own experience of the healing of your mind, an experience of pure love and Light that has nothing to do with this shadowy world of darkness at all."
O'Connor then asked the congregation to "Listen very carefully to what Jesus says in Lesson 136 of A Course In Miracles, 'This is our aim today. And we will ask the truth to come to us and set us free. And truth will come, for it has never been apart from us. It merely waits for just this invitation which we give today. We introduce it with a healing prayer, to help us rise above defensiveness, and let truth be as it has always been: Sickness is a defense against the truth. I will accept the truth of what I am, and let my mind be wholly healed today.'
"This takes no time at all. It's happening right now," whispered O'Connor. "Listen, 'Healing will flash across your open mind, as peace and truth arise to take the place of war and vain imaginings. There will be no dark corners sickness can conceal, and keep defended from the light of truth. There will be no dim figures from your dreams, nor their obscure and meaningless pursuits with double purposes insanely sought, remaining in your mind. It will be healed of all the sickly wishes that it tried to authorize the body to obey.'
"Listen to this from lesson 140": 'And we will feel salvation cover us with soft protection, and with peace so deep that no illusion can disturb our minds, nor offer proof to us that it is real. This will we learn today. This is the day when healing comes to us. This is the day when separation ends, and we remember Who we really are.' We are remembering right now. It's all light."
O'Connor concluded the address with one piece of advice, "If you need a method, use the one given by Jesus Christ! One of my favorites is in Lesson 183 of A Course In Miracles, 'I call upon God's Name and on my own' which says, 'Practice but this today; repeat God's Name slowly again and still again. Become oblivious to every name but His. Hear nothing else. Let all your thoughts become anchored on This. No other word we use except at the beginning, when we say today's idea but once. And then God's Name becomes our only thought, our only word, the only thing that occupies our minds, the only wish we have, the only sound with any meaning, and the only Name of everything that we desire to see; of everything that we would call our own.
'Thus do we give an invitation which can never be refused. And God will come, and answer it Himself. Think not He hears the little prayers of those who call on Him with names of idols cherished by the world. They cannot reach Him thus. He cannot hear requests that He be not Himself, or that His Son receive another name than His.' Welcome home."
To download a free ebook of prayers from A Course In Miracles, visit http://www.acourseinmiraclesonline.com/peace_ebook.php.
###