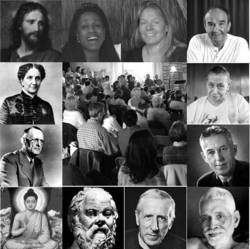 12 Steps To Enlightenment (How It Really Works)
Ferndale, WA (Vocus) July 15, 2009
Recovering alcoholics, addicts, enlightened teachers, practitioners and adepts of the 12-step program and A Course In Miracles will convene this weekend at the Miracles Healing Center in Wisconsin Dells, WI, for a unique 3-day event entitled "12 Steps To Enlightenment (How It Really Works)".
See http://www.acourseinmiraclesonline.com/12stepacim/.
According to organizer and presenter, Clare Lamanna, "the sole purpose of the convention is the realization of the goal of the 12 steps and A Course In Miracles, namely, the miraculous transformation and illumination of our individual minds and bodies. There is no concern here with any religious doctrine or political or social philosophies of any kind."
"The power of mind to heal is a continually demonstrated fact of life. We invite, in confidence, all the valiant ones who have struggled mightily and with deep devotion to share their love for life and each other in the losing battle to find human remedy to a seemingly hopeless condition," Lamanna continues. "You may now be heavily laden with the fearful prospect of inevitable defeat. Have faith.Come and witness to the spontaneous healing power of Love that is your true identity in this place of loneliness and death. You will discover it here during this convention in a new continuum of time, through your own miraculous transformation found in a single moment of transition out of time that is inherent in the nature of the human species."
The event is scheduled to begin at 7:00 PM on Friday, July 17, 2009, and end at 5:00 PM on Sunday, July 19, 2009. A full event program and registration details can be found at http://www.acourseinmiraclesonline.com/12stepacim/.
# # #