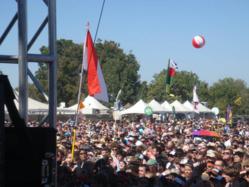 Though the $200, three day passes are sold out, Sixclear has guaranteed tickets for trainees at $100 below face value.
Austin, Texas (PRWEB) June 07, 2012
Sixclear, an Austin-based LabVIEW training and development company, offers its Sixclear LabVIEW Fundamentals regional course the week after Austin City Limits Music Festival, as well as subsidized tickets to the sold-out festival October 12-14.
Ask Sixclear about their company's growth and they'll tell you it's in no small part due to the support and vibrancy of their headquarters in Austin, Texas.
"We love working with local vendors and suppliers," says Brian Spears, Sixclear Co-Founder. "The go-local culture is one of the best things about this city. The other is ACL Music Festival. We want you here."
Austin City Limits Music Festival has been occupying a fall weekend in downtown Zilker Park since 2002, with an attendance of 70,000 people per day. The popularity of the festival has grown steadily over the years, with this year's passes selling out in record time, within a half hour of releasing 3-day tickets to email list subscribers.
"Nobody complains about coming to Austin, but sometimes you need an excuse to get it on the calendar," continues Spears. "You need LabVIEW training. So book your ticket for Friday, October 12 and head straight to the festival. Then rock out and enjoy the music until Sunday night. Bring your tales in Monday morning at the start of the Sixclear LabVIEW Fundamentals course. We'll have the coffee waiting."
Though the $200, three day passes are sold out, Sixclear has guaranteed tickets for trainees at $100 below face value.
"Go online now and you'll find three-day passes at $300-400," explains Spears. "However, if you sign up for the full, 5-day regional Sixclear LabVIEW Fundamentals course for October 15-19, we'll just tack $100 on top of your bill. If you're not much of a festival goer, you're still welcome to join us in the course for the normal price of $1999. Just be ready for us to occasionally burst into choruses of reminiscings."
The Sixclear LabVIEW Fundamentals classroom course is designed to bring new LabVIEW users up to programming capacity. Spears reports that feedback has been outstanding. "Dan Petrovich from Assured Space Access Technologies (ASAT) just took our course this spring. He wrote us to say 'I should have taken this class 15 years ago. The new capabilities of LabVIEW far exceeded my original expectations and this class brought me to the next level. The course material is excellent and persists beyond the class in the form of an excellent Sixclear website.'"
Full details of the training package are available at sixclear.com/regionals.
About Sixclear
Based in Austin, Texas, Sixclear is an engineering company offering LabVIEW courses, development, integration, and consulting in the automation, test, measurement, and data acquisition space. Sixclear has the only comprehensive, modern online/on-site LabVIEW training combination in the world.