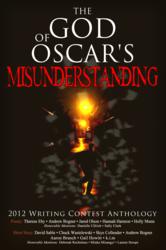 If we're not careful, we can communicate the idea that the Gospel is only for the people who are already good, or worse, that the most important part of the Gospel is that you'll stop cussing, drinking, and smoking.
(PRWEB) September 16, 2012
Athanatos Christian Ministries, the host of an annual Christian short story contest, announced recently the winners of its 2012 contest. The grand prize winner of ACM's C.S. Lewis Award was an author from North Carolina, David Sable, for his story "The God of Oscar's Misunderstanding."
ACM's Executive Director, Anthony Horvath, says that Sable has previously won an award in their writing contest and he was glad to see that Sable pushed forward again this year to take the grand prize. "One of the things we like at ACM is when an author catches hold of our vision, and even if they don't initially have the most ideal result, hang in there and give it another go," he says.
The winning story is titled "The God of Oscar's Misunderstanding."
Sable describes the story as being "about a man name Oscar (oddly enough) who is in some sort of alcoholic twelve-step program. He does what twelve-steppers call the "fourth step" where he writes down his resentments and ways he damaged other's lives. When he is done and has read it to his sponsor, he burns the notebook. But the notebook keeps coming back in ways that has the potential of getting him into serious trouble. This leads up to Oscar meeting the "God of His own understanding" to try to get at what is going on."
The story was inspired by Sable's own experiences. He says that in some twelve-step programs, people are encouraged to burn their notebooks in a symbolic gesture representing a break from the past. He burned his in a park. Then, he says, "Afterwards, I ran into a young couple and their family at the park. They had no idea why I was there but it felt weird because I knew the kind of things I wrote down in the notebook and suddenly seeing them felt threatening. Afterwards, I began to mull over this seed that eventually became the story."
ACM is an apologetics ministry with a unique emphasis: defending the Christian faith through the arts and literature. To that end, they offer a number of writing contests. Besides the short story contest, there is a poetry contest, a novel contest, and new this year, a Christian children's book contest.
Horvath calls this emphasis 'literary apologetics' and says that ACM is probably the only apologetics ministry that specifically calls on both authors and apologists to consider how the Christian faith can be defended, explained, or promoted through the arts, or conversely, how the arts can be, and have been, used to undermine the Christian faith.
"The clearest example I know of trying to intentionally undermine the Christian faith through a story would be Philip Pullman's "His Dark Materials" series," says Horvath, who wrote an e-book detailing his claim called "The Anti-Apologist: Philip Pullman's Covert Assault on the Christian Worldview within "His Dark Materials."
"Another example someone might suggest would be Dan Brown's 'The Da Vinci Code' but that lacks the intentionality that I perceive behind "The Golden Compass" and Pullman's other works," Horvath says.
But intentionally trying to write in such a way to defend the faith has its own pitfalls, as Sable warns, "Historically, we have been taught in evangelism to be very exact and to completely spell out the gospel so that there is no misunderstanding. Writing fiction turns that on its head because many do not want to read a gospel tract."
To avoid having his own writings turn into an evangelistic pitch, he says that he cultivates "the ability to trust my reader."
Sable writes: "I think we can engage the reader to pick up our clues if we give them honest characters to think about. This requires me to recognize that the spiritual truth of the story may not match up with my ideals. The coach that receives Christ may not win the big game. The churchman may not be the one who recognizes the truth of God. The New Age hippy may have more peace than the Christian in a given situation. Whether our characters recognize it or not, my task is to bring forth the truth of God somewhere in the story where our reader can find it if he wants to."
In fact, many readers--especially Christian readers--will be taken aback by the grittiness of "The God of Oscar's Misunderstanding" and be surprised that a Christian ministry could see it way to publishing it, let alone awarding it top prize.
Horvath shrugs off such concerns, and even suggests that sanitizing our works may actually serve to undermine the Gospel, "If we're not careful, we can communicate the idea that the Gospel is only for the people who are already good, or worse, that the most important part of the Gospel is that you'll stop cussing, drinking, and smoking. We discourage gratuitous bad stuff in our stories, but if the story requires it, as "The God of Oscar's Misunderstanding" seems to, then it would actually undermine the story to take it out."
"Besides," Horvath adds, "there'd be no room for Flannery O'Connor in the Christian arts if our stories had to be all 'prettied up.'" Sable himself notes that O'Conner was an influence, at least during parts of his life.
ACM's 2013 Christian Short Story, Poetry, and Christian Children's Book contests are all currently accepting entries. Their novel contest will begin taking entries again this spring for the 2014 contest. The 2013 novel contest is currently being judged.