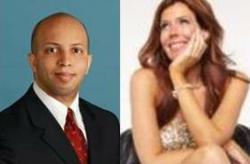 "We do what can't be done! We undo the damage done by our competition, avoiding the same mistakes."
(PRWEB) October 18, 2012
ACM Partners is an innovative advisory firm focused on turnaround and restructuring, as well as educating business owners. ACM Partners is out to change the turnaround industry from the inside.
David Johnson and Margaret Bogenrief, partners of ACM Partners, believe that most turnaround firms are "stuck" in using old techniques that create more failures than successes. Using, new proprietary techniques, the University of Chicago MBA graduates have saved numerous companies and saved clients millions of dollars.
David Johnson stated, "Our biggest challenge is educating people about what turnaround is, and helping them see just how broad an application there is for our core skills."
"We do what can't be done! Sometimes that means helping a startup maintain its growth trajectory, helping a private equity backed company trim costs to maximize profitability, or restructuring a troubled company and steering it to the least bad outcome," added Margaret Bogenrief.
Thought leadership is core to ACM Partners' mission, and as such both David and Margaret have carved out a unique niche as creative and versatile advisors while also establishing themselves as thought leaders. They have actively commented on retail (VIDEO the GAP Turnaround and Ron Johnson and JC Penny), technology (VIDEO Venture Capital Funding Desert) and municipal (San Bernardino's Chapter 9 Shows the Floodgates are Opening) segments. Both partners are experienced media commentators, and sought after speakers.
ABOUT ACM PARTNERS
The "New Normal" of the post-recession world calls for new and better approaches to the problems of under-performance. Under-performing companies can be saved, but it requires a different mindset.
As successful business owners, David Johnson and Margaret Bogenrief understand how small problems become the "cancers" of your business. They work within businesses to not just cure the "symptoms." They cure the problems so clients can return to growing your business. They welcome the impossible. The more severe the problem, the greater the challenge, the more enthused they are the opportunity.
To accomplish the impossible, ACM Partners offer new, proven strategies and tactics, meshed with mastered traditional skills. Their unique and proprietary approach was developed as both business owners and as turnaround specialists; and is ever evolving.
ACM Partner's operations are lean, fast and fairly priced. Their pricing model is designed for entrepreneurs and corporations with revenues up to $200,000,000. They believe that they should be rewarded for success, not the time spent working with clients.
"We undo the damage done by our competition, avoiding the same mistakes," concluded Johnson.
Industry Experience Includes:

Automotive
Bio Tech, Pharma, Medical Devices and Healthcare providers
Nursing Homes
Healthcare IT, Technology
Food processing, Restaurants
Construction, Commercial Real Estate
Subject Matter Expertise:

Successful management of turnaround and restructuring situations
Chapter 11 bankruptcy and assignments for the benefit of creditors
Distressed M&A (including divestitures, joint ventures, section 363 sales, etc)
Operational and financial turnaround execution
Liquidity assessment and strategies
Performance improvement
Business plan creation and execution
Start-up company strategy
Distressed business process evaluation & optimization
Policy & markets analysis