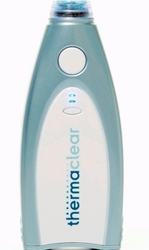 This innovative product is a tremendous addition to the wide selection of personal care and beauty products we offer our customers.
San Francisco, Calif. (PRWEB) August 3, 2007
Therative today announced that ThermaClear, its innovative hand-held acne treatment device, is now available at drugstore.com, a leading online retailer of health, beauty, vision and pharmacy products. ThermaClear is a unique and welcome solution for the 50 million Americans suffering from mild-to-moderate acne. Now that it's available on drugstore.com, consumers across the nation will be able to purchase ThermaClear easily from the comfort and privacy of their home and have it delivered to their door.
The ThermaClear device is based on a process called HEAT – Heat Enabled Acne Treatment. Unlike traditional topical acne treatments, ThermaClear delivers a controlled burst of heat directly to the pimple to accelerate the clearing of acne after it occurs. In fact, an FDA-reviewed clinical study proves that pimples treated with ThermaClear heal two to four times faster than those not treated with the device.
"We are delighted to offer ThermaClear to millions of Americans through our convenient online store," said Kathleen McNeill, vice president of beauty, drugstore.com and Beauty.com. "This innovative product is a tremendous addition to the wide selection of personal care and beauty products we offer our customers."
ThermaClear uses proprietary Thermal Pulse Technology to deliver a controlled burst of heat that gently reaches beneath the surface of the skin to neutralize the underlying bacteria that cause acne and accelerate healing. It's similar to laser treatment technology dermatologists use to treat mild-to-moderate acne. An FDA-reviewed clinical study proved that ThermaClear clears pimples two to four times faster than those not treated with ThermaClear. With no medicine involved, ThermaClear heals pimples without over-drying or irritating skin. Treatment time is two-seconds per pimple, and it's proven to be safe, as well as effective, on all skin types.
"We're thrilled to be working with a well-recognized and trusted online brand," said Peter Scocimara, CEO of Therative. "drugstore.com and its customers provide an excellent distribution channel for ThermaClear. This partnership will help us to achieve our mission, reaching a larger audience and providing much-desired relief to the millions of acne sufferers in this country."
ThermaClear is currently available at http://www.drugstore.com for $149.95 with no charge for regular shipping. More information about ThermaClear and our proprietary Thermal Pulse Technology may be found at http://www.thermaclear.com.
About Therative
Therative is a pioneer in developing medical products and solutions for consumers, converting complex medical treatments previously available only through professionals into safe, effective products for use by consumers. The company's initial consumer brand is ThermaClear, a line of products including a hand-held consumer medical device and set of topical solutions for the treatment of mild-to-moderate acne. Therative is headquartered in Livermore, Calif. with offices in San Francisco, Calif. For more information, please visit http://www.therative.com.
About drugstore.com
drugstore.com, inc. is a leading online provider of health, beauty, vision, and pharmacy products. The drugstore.com™ online store provides a convenient, private, and informative shopping experience that encourages consumers to purchase products essential to healthy, everyday living. The online store offers thousands of brand-name personal health care products at competitive prices; a full-service, licensed retail pharmacy; and a wealth of health-related information, buying guides, and other tools designed to help consumers make informed purchasing decisions. Consumers can personalize their shopping experiences with shopping lists, e-mail reminders for replenishing regularly used products, and private e-mail access to pharmacists for questions.
# # #