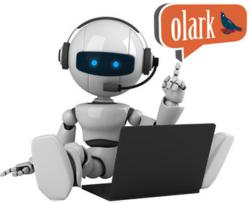 Acobot and Olark, Better Together!
Sunnyvale, CA (PRWEB) September 03, 2012
Live chat software helps businesses do many things. Most importantly, it helps them to better communicate with potential customers and to convert them into actual customers. And, Acobot, LLC is leading the way in developing artificial intelligence (AI) live chat technologies. Most recently, it has improved its live chat robot to work seamlessly with Olark, the live chat software brought by Habla, Inc.
"Olark is top-notch live chat software. However the software alone doesn't do the work," Vic Duan, CEO at Acobot, says. "As a result, website owners need to invest large sums of money in human resources. For instance, if a business wants to offer live support 24 hours per day, seven days per week, at least five, full-time agents are required. For most small to medium-sized businesses, this is just not affordable."
Acobot's new improved chatbot help help businesses extend their live chat service time from eight hours a day, five days a week to 24 hours a day, 7 days a week, without adding an agent. This means increasing the time coverage by 320 percent.
"We are very excited about the improvements that we have made to our chatbot," Vic Duan, CEO of Acobot, reports. "We have made it easy for website owners to use Acobot along with Olark. Olark users simply sign up to get Acobot on their website. The chatbot then automatically works with Olark – no changes to Olark installation or configuration are necessary."
Currently, Olark users need to go to their Acobot dashboard to switch between Olark and Acobot, but Acobot has an improvement plan in place to enhance the user experience in this arena as well.
"We plan to provide a tighter integration through Olark's JavaScript application programming interfaces (APIs) so that the users will not need to click any button to switch between a live human agent and a robot," Duan explains. "Acobot will automatically hide when there are real people chatting, and work when no live agents are available."
Additionally, Acobot continues to research even more advanced solutions for Olark and other live chat software. According to a member of Acobot development team, these include a feature that the robot gives agents default replies or tips in replying to messages by users. The expect the feature will help agents remarkably improve productivity and quality at the same time.
For more information on how Acobot works together with Olark, visit: http://acobot.com/olark .