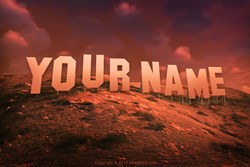 aCoolGift.com has launched all-new products, custom digital images and posters for customers to add their name or any text to. aCoolGift.com webstore is offering a 40% off sale on all products until March 17, 2014.
Miami, Florida (PRWEB) February 14, 2014
http://www.aCoolGift.com is now offering one of the most unique customized poster and digital image products on the market today. Created with the latest in visual effects technology, these stunning images are created by the same artists that design the amazing visual effects for blockbuster movies. All products designed and created by aCoolGift.com are custom made for each customer as a visually stunning piece of art. All products are on sale at 40% off starting Valentine's Day through St. Patrick's Day, March 17, 2014.
The digital images sold on aCoolGift.com are recommended for customers to use as the desktop background wallpaper on their smart phones, computers, laptops, tablets or any tech device that displays an image. All images are also offered as a custom printed 24x36 inch poster.
aCoolGift.com is continually adding new and unique images for customers to customize with any name or text and encourage customers to visit their web store at aCoolGift.com often to see what's new.
For more information, please visit http://www.aCoolGift.com