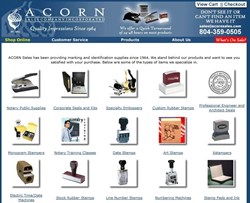 For decades, ACORN Sales has been meeting the custom marketing & identification product requirements of customers and we are happy to announce Lifetime Warranty on Notary Embossers
Richmond, VA (PRWEB) September 11, 2013
The renowned provider of marking & identification supplies since 1964, ACORN Sales is providing Lifetime Warranty on its Notary Embossers. Portable pocket notary seal embossers and desk notary seal embossers are some of the most popular types of notary embossers offered by ACORN Sales.
One of the executives of ACORN Sales said, "We are regarded as industry leader in making top-quality marking devices. For decades, ACORN Sales has been meeting the custom marketing & identification product requirements of its customers and we are happy to announce Lifetime Warranty on Notary Embossers. We are confident that clients will appreciate the efforts of ACORN Sales in providing an unmatched customer support".
ACORN Sales offers each style of notary embosser in three notary public seal packages including Basic Seal Package, Deluxe Seal Package, and Notary Public Supreme Package. The Basic Seal Package comes with a notary seal and a commission expiration stamp. The Deluxe Seal Package has notary seal, commission expiration stamp, notary record book, embossed Hereon stamp, and a stamp of the customer's choice. The Notary Public Supreme Package has most of the notary supplies in one package.
"When it comes to notary supplies, ACORN Sales is your best choice as we also sell notary signs, gold foil seals, and notary books. We do not make any compromise with the quality of the product and ensure that all the embossers & seals are made with precision. The Life Time Warranty on notary embosser will further give us a chance to serve our customers better," added the executive.
By offering quality products and outstanding customer service, ACORN Sales has become most recommended names amongst customers looking to buy notary seals and notary public signs. Whether you want to buy notary stamp, professional seal stamp, wedding embosser, pre-inked stamp, or self-inking stamp, ACORN Sales is one-stop-shop for all your marking and identification supplies requirements. The manufacturing unit of ACORN Sales can handle order requests of any size and ensures that the delivery is made within the stipulated time frame. The orders can be placed via email, Internet, mail, or fax.
About ACORN Sales
ACORN Sales has been providing marking and identification supplies to businesses & individuals for over four decades. It offers professional supplies, notary public supplies, corporate kits, and corporate seals at best prices to customers. The company ensures that most of the products are delivered on the same or the next day to the customers. To check out the notary public supply range of ACORN Sales, click here.
Contact Details
ACORN Sales
1506 Tomlynn Street
P.O. Box 6971
Richmond, VA 23230
Toll Free Phone: (866) 379-5775
In Richmond: (804) 359-0505
Toll Free Fax: (800) 272-7011
In Richmond: 804) 353-5258
E-Mail: sales(at)acornsales(dot)com
Website: http://www.acornsales.com/