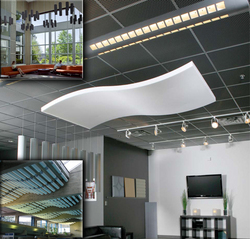 Not only do all of these new products look more stylish than most acoustical products, but they're also extremely effective noise controllers just by the very nature of their design and intended placement
Richmond, VA (Vocus) November 10, 2010
Acoustical Solutions, Inc., a leading supplier of soundproofing and noise control products, today is proud to announce its new collection of innovative hanging acoustic baffles.
Ideal for projects in which style, design and functionality are equally important, the new acoustic baffles are perfectly suited for homes, lobbies, restaurants, reception areas, large multipurpose rooms and most places in which echoes and reverberation are problems.
A fresh take on an old concept, the new collection includes Whisperwave baffles, Whisperwave clouds, Sonex Rondo Baffles and Acoustic Lanterns, all of which are immediately available to view at AcousticalSolutions.com.
"Not only do all of these new products look more stylish than most acoustical products, but they're also extremely effective noise controllers just by the very nature of their design and intended placement," said David Ingersoll, Acoustical Solutions' national sales manager.
By hanging from the ceiling, these baffles create two distinct advantages. The first is that they reside in spaces (high open areas) where sound tends to get "stuck" because there isn't anything there to absorb it.
The second advantage is that these hanging baffles absorb sound on all sides, while products used on walls only utilize about half of their available surface area.
"Whether it's because you're out of wall space or because you like their look, we're very excited to be able to offer these new baffles, which are yet another tool we have at Acoustical Solutions to make any space sound better," said Ingersoll.
About Acoustical Solutions, Inc.
Since 1989 Acoustical Solutions, Inc. has provided the detailed expertise needed to serve the noise control community.
Acoustical Solutions, Inc. works with a wide variety of customers from commercial and residential development to worship facilities, recording studios and home theater designers. Acoustical Solutions, Inc. offers the industry's most comprehensive selection of noise control and soundproofing products, including a full line of indoor and outdoor industrial, commercial, environmental and architectural noise control products.
For more information please visit AcousticalSolutions.com, or call 1-800-782-5742.
###