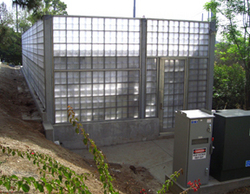 Richmond, Virginia (PRWEB) October 21, 2008
AcoustiClear™ is an innovative, 'clear' noise barrier wall system that is uniquely well suited for projects requiring a cost effective, visually appealing, industrial sound blocking wall system.
AcoustiClear™ is made from recyclable polycarbonate plastic modules, making it low-maintenance, durable, lightweight and significantly more customizable than industry alternatives.
The modular design of the AcoustiClear™ panels allows for ultimate flexibility in design, expansion and transportability of the wall system. The system can be installed using posts made of steel, high strength composites or concrete. The system arrives at job-sites complete, ready-to-install, minimizing installation time and environmental impact to the site location.
The AcoustiClear™ noise barrier wall system is corrugated on both sides; reducing sound levels and allowing for up to 80% of light to transmit through the wall. The added security of being visually translucent discourages vandals and makes it uniquely suited for residential development and municipal properties where the ability to identify trespassing is a vital safety concern.
The AcoustiClear™ noise barrier wall system has been successfully used in a variety of applications ranging from freeways, airports, and transit facilities to schools, hospitals and residential development.
For more information on the AcoustiClear™ noise barrier wall systems, please contact Acoustical Solutions, Inc., Environmental Division, Richmond, VA, by calling 1-800-782-5742, or by visiting EnvironmentalNosieControl.com, a registered domain of Acoustical Solutions, Inc.
Acoustical Solutions, Inc. works with a wide variety of customers from commercial and residential development to worship facilities, recording studios and home theater designers. For 20 years, Acoustical Solutions, Inc. has provided the detailed expertise needed to serve the noise control community. Acoustical Solutions offers a full line of indoor and outdoor industrial, commercial, environmental and architectural noise control products.
The Acoustical Solutions, Inc. Environmental Division offers comprehensive expertise in: data analysis, modeling, policy and regulatory analysis, planning, value engineering and construction of physical and operational mitigation systems. As governmental agencies place increasing focus on intermodal planning as well as design and development, Acoustical Solutions, Inc. assist clients in the design and implementation of noise and vibration mitigation solutions for existing facilities and planned projects.
For more information please visit http://www.AcousticalSolutions.com or call 1-800-782-5742.
###