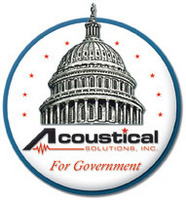 Richmond, VA (Vocus) May 14, 2010
Acoustical Solutions, Inc. offers noise control and soundproofing products to local, state and federal government agencies, including noise reduction ceiling tiles, acoustical wall panels, acoustical doors, audiometric booths and several building materials to help obtain SCIF room accreditation and LEED certification.
With significant focus being placed on state and local procurement, Acoustical Solutions, Inc. has registered with over 25 state procurement operations. Likewise, Acoustical Solutions currently holds a pending GSA Contract under Schedule 56 for Building Material Dealers.
In addition to registering for state and local purchasing programs, Acoustical Solutions, Inc. strives to maintain the most current company profile including accurate NAICS codes, Central Contractor Registration (CCR) and the Online Representations and Certifications Application (ORCA) to aid government buyers in the purchasing process.
Acoustical Solutions, Inc. is SwaM Certified (Small, Women- and Minority-owned Business) with the Virginia Department of Minority Business Enterprise and is a Self Certified Small Business.
Government Development Manager for Acoustical Solutions, Inc., Diana Boxey, said, "Acoustical Solutions, Inc. continues to grow our presence in both state and federal markets with the continued pursuit of federal procurement vehicles, the ability to provide more eco-friendly acoustical products and by facilitating brand representation at industry events, like the OSDBU Procurement Conference and the 2010 GSA Training Conference & Expo. Acoustical Solutions, Inc. will continue to provide noise mitigation consultation and training in an effort to better understand the needs of the government segment. Likewise, in the coming weeks, Acoustical Solutions will begin to host monthly webinars geared towards educating government entities on the wide array of acoustical applications and treatments."
For more information on government purchasing please Email Diana Boxey, or call 800-782-5742 ext. 39.
NAICS Codes: 238310, 444190
DUNS: 62-538-6024
SWAM Certification: 683873
###