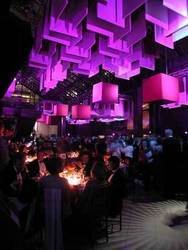 It feels good to be able to offer so many noise reduction combinations
Richmond, VA (Vocus) July 21, 2010
Acoustical solutions, Inc., a leading soundproofing and sound control company, today announced a substantial expansion to its selection of environmentally friendly products.
The new products, which will join the AudioSeal™ sound blanket line in Acoustical Solution's growing list of "green" noise reduction choices, are the AlphaEnviro Baffle, AudioSeal™ Drop Tile Ceiling Sound Barrier, AlphaEnviro™ Wall Panel, AudioSeal™ Pipe & Duct Wrap, AlphaFlex™ Banner and PolyWrap™ Baffle.
With these new products' wide range of application possibilities, Acoustical Solutions will now be able to mix, match and combine to create completely "green" solutions for its customers.
"It feels good to be able to offer so many noise reduction combinations," said Dave Ingersol, Acoustical Solutions National Sales Manager. "And just because these products are considered 'green' doesn't mean they're of different quality, they all work on the same level as our other products and some even offer extra advantages like thermal insulation, indoor and outdoor capabilities and easy to clean PVC coverings."
All of the new products contain Knauf Insulations's Ecose Brand Fiberglass. Some of its advantages are as follows:

Manufactured from naturally occurring and/or recycled raw materials
Bonded using a bio-based technology
Formaldehyde free
70% less energy intensive than traditional petroleum-based bonding agents.
Ecose Fiberglass is 100% recyclable and contains a minimum of 30% post-consumer recycled glass.
The AlphaEnviro™ Baffles are sound absorbing hanging baffles with washable surfaces. They are available in two exterior coverings: PVC (polyvinyl-chloride) and Ripstop nylon.
The AudioSeal™ Drop Tile Ceiling Barrier is made of a one-eighth inch thick layer of mass loaded vinyl material weighing one pound per square foot, which is coupled with a one or two inch thick layer of Ecose Fiberglass. It has a metallic scrim facing.
The AlphaEnviro™ Wall Panels are sound absorbing Ecose Fiberglass panels with washable surfaces. These Acoustic Panels offer a wonderful solution for easy to clean noise control.
The AudioSeal™ Pipe and Duct Wrap is an insulation composite noise control material featuring a flexible one pound per square foot reinforced foil-faced mass loaded vinyl noise barrier bonded to a one inch thick quilted Ecose Fiberglass sound absorber.
The AlphaFlex™ Banners are designed for facilities that require large amounts of sound absorption and acoustical treatment. They are designed to hang vertically from or parallel to the ceiling via wooden mounting stays.
The PolyWrap™ Baffles are comprised of a heat sealed polyethylene bag encompassing the sound absorptive Ecose Fiberglass.
About Acoustical Solutions, Inc.
Since 1989 Acoustical Solutions, Inc. has provided the detailed expertise needed to serve the noise control community.
Acoustical Solutions, Inc. works with a wide variety of customers from commercial and residential development to worship facilities, recording studios and home theater designers. Acoustical Solutions, Inc. offers the industry's most comprehensive selection of noise control and soundproofing products, including a full line of indoor and outdoor industrial, commercial, environmental and architectural noise control products.
For more information please visit http://www.acousticalsolutions.com, call 1-800-782-5742 or see our media kit.
# # #