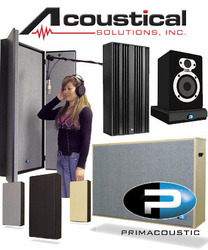 Richmond, VA (Vocus) February 10, 2010
Acoustical Solutions, Inc. is proud to announce the completion of a reseller agreement with Primacoustic®, a division of Radial Engineering, Ltd.
The reseller agreement adds 14 products to Acoustical Solutions, Inc.'s already expansive product line.
Primacoustic® is an industry leading manufacturer of acoustical products for the recording and broadcasting industry.
The addition of the Primacoustic® brand strengthens the Acoustical Solutions, Inc. product offering aimed at the recording and broadcasting industries by focusing on delivering innovative, high-value-oriented products.
Among the Primacoustic® products now offered by Acoustical Solutions, Inc. are the Recoil Stabilizer™ platform, two types of acoustical ceiling tiles, acoustical wall panel room-kits, bass traps, corner traps, award-winning sound diffusers and other innovative recording equipment like the FlexiBooth™ instant Voice-over booth, a wall mounted voice-over booth that folds away to save space.
National Sales Manager for Acoustical Solutions, Inc., David Ingersoll said, "Primacoustic® has over 15 years experience in studio and live sound. Acoustical Solutions, Inc. has been selling acoustical materials and solving acoustical problems for over 20 years. Together the two companies have over 35 years of experience and have amassed a tremendous amount of resources and knowledge to share with our customers. I firmly believe that by sharing our combined knowledge, the customers will enjoy better results from our expanded product line."
Steve Dickson, Primacoustic® Business Development Manager, adds "We are excited to be working in tandem with Acoustical Solutions and to be adding our innovative product lines to their portfolio. As the market place continues to self-educate on the growing need for acoustic treatments this partnership strengthens both companies position to meet these expectations. We look forward to not only continued growth of the Primacoustic brand but exploring new avenues of opportunity with Acoustical Solutions.
About Acoustical Solutions, Inc:
Acoustical Solutions, Inc. works with a wide variety of customers from worship facilities and office buildings to home theaters and construction companies looking for noise management. For 20 years, Acoustical Solutions, Inc. has provided the detailed expertise needed to serve the sound management community. Acoustical Solutions offers a full line of indoor and outdoor industrial, commercial, environmental and architectural noise control products. For more information please visit http://www.AcousticalSolutions.com or call 1-800-782-5742.
###