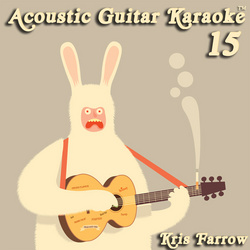 "Acoustic Guitar Karaoke is one of the most popular series of karaoke albums on iTunes."
Austin, TX (PRWEB) February 9, 2010
Independent record label, Triple Pop, today announced that Acoustic Guitar Karaoke Volume 15 from professional guitar player Kris Farrow is now available exclusively on the iTunes store (http://www.itunes.com/krisfarrow). The latest album volume features ten (10) acoustic guitar versions of hit songs made famous by popular artists such as Taylor Swift ("Today Was a Fairytale"), Kings of Leon ("Use Somebody") and Sugarland ("Keep You").
"Acoustic Guitar Karaoke is one of the most popular series of karaoke albums on iTunes," said guitarist Kris Farrow. "Our fans love to use my acoustic guitar tracks and videotape themselves singing along just like karaoke. YouTube fan Amy Collehela used my version of Miley Cyrus' "Hoedown Throwdown" and hit over 500,000 views on YouTube in a month."
To keep in touch with fans, Kris Farrow routinely posts up acoustic guitar instructional videos on YouTube. Kris' channel has already reached over 1,300,000 views in just over a year.
Acoustic Guitar Karaoke started as an idea to help people learn how to play guitar while singing to their favorite popular songs. The concept was to take music from popular songs and adapt them into acoustic guitar instrumental versions, therefore isolating the guitar itself - no vocals, drums or keyboards to cover it up.
Acoustic Guitar Karaoke is a different kind of karaoke, is it gives people the opportunity to have a professional acoustic guitarist accompanying them, like singing in a real acoustic duo, the tracks lets their voice really shine, because it's stripped down and natural.
The most popular songs include acoustic guitar versions of Taylor Swift's "Love Story" and Colbie Caillat's "Realize."
Triple Pop recently hosted a karaoke recording contest where fans recorded their vocals over Kris Farrow's acoustic guitar songs. The top winners received prizes and will have their cover songs released on a special Acoustic Guitar Karaoke All Stars Edition album on iTunes.
Acoustic Guitar Karaoke Volume 15 is available for $5.99 from Apple's iTunes Store at http://www.itunes.com/krisfarrow or at http://itunes.apple.com/us/album/acoustic-guitar-karaoke-vol/id353151809.
For more information, promotional requests and interviews, please contact info(st)triplepop(dot)com.
For more information on Acoustic Guitar Karaoke, please visit http://www.acousticguitarkaraoke.com.
About Triple Pop
Triple Pop is an independent record label based in Austin, Texas (http://www.triplepop.com).
About Kris Farrow
Originally from Potsdam, New York, Kris Farrow pursued music academically at both the legendary Berklee College of Music and the Crane School of Music. Kris is also the lead guitar player of the alternative country band Micky and the Motorcars, whose latest studio album, Naïve, received a "Hot Shot Debut" on Billboard's Country album chart reaching #43 and at #27 on the Top Heatseekers chart (October 2008).
###