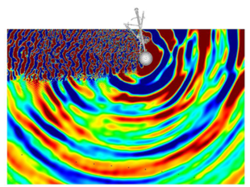 We now have the ability not only to accurately predict the transient flow fluctuations that cause the noise but also to accurately predict propagation to the far-field – providing a complete, validated solution.
Burlington, MA (PRWEB) September 14, 2011
Exa® Corporation, a global innovator of fluids simulation solutions for product engineering, today announced the release of PowerACOUSTICS® 2.0. Exa's newest release offers a Far-Field Noise Module for accurate numerical prediction of flow-induced far-field noise, as well as wind noise source analyses, to provide insight for acoustic design improvement. This new module extends Exa's aeroacoustic applications and allows engineers to now simulate flow-induced community noise problems for aircraft, rail transport, and rotating machinery applications
Industrial noise pollution is government regulated in most areas of the developed world, and manufacturers of aircraft, trains, and heavy equipment and machinery must design products that meet regulatory noise targets for all markets in which they are to be sold. "Assessing flow-induced far-field noise during product design has been a real challenge," remarked Franck Pérot, Director, Aeroacoustics Applications at Exa Corporation. "Experimental methods for aeroacoustic far-field analysis have limitations due to equipment size and difficulty of physical testing. We now have the ability not only to accurately predict the transient flow fluctuations that cause the noise but also to accurately predict propagation to the far-field— providing a complete, validated, far-field noise analysis and aeroacoustic noise control solution."
The PowerACOUSTICS Far-Field Noise Module coupled with Exa's PowerFLOW® provides engineers an integrated solution, enabling engineers to assess noise levels throughout the design process. "Exa is pleased to offer a solution that will help our customers meet regulatory requirements with early stage simulation and evaluation," commented Alex Mackenzie, Exa's VP of Product Management and Marketing. "This solution provides aeroacoustic and noise performance information early enough to influence the design and study the effect of noise reduction options — reducing the amount of required physical testing, resulting in time and cost savings."
Aeroacoustic Capabilities with PowerACOUSTICS 2.0 Far-Field Noise Module and PowerFLOW:

Accurate transient flow fluctuation prediction: PowerFLOW's proven accuracy for the prediction of aerodynamically induced noise is enabled by key properties of the solver: time-unsteady, very low dissipation, and ability to handle complex detailed geometry.
True rotating geometry: PowerFLOW's ability to simulate true rotating geometry allows it to accurately predict pressure fluctuations generated by rotating machinery. Coupled with the Far-Field Noise Module, Exa now has an accurate solution for predicting fan and other rotating machinery noise propagation to the far field.
Fully coupled far-field noise solver: The fully-integrated Fowcs-Williams Hawkings (FW-H) based solver predicts time signals at receiver/microphone locations based on PowerFLOW transient simulations.
Noise metrics and digital certification: The Far-Field Noise Module outputs time-domain pressure signals, to which any user specific post-processing can be applied.
Insight on noise source locations: The Far-Field Noise Module provides a contribution analysis of the noise sources, highlighting the near-wall regions contributing the most to the far-field. Inverse methods such as beam forming and acoustic holography can also be coupled to the output far-field signals providing spatial noise source localizations.
About Exa Corporation
Exa Corporation develops, sells and supports simulation software and services to enhance product performance, reduce product development costs and improve the efficiency of design and engineering processes. Our simulation solutions enable our customers to gain crucial insights about design performance early in the design cycle, thus reducing the likelihood of expensive redesigns and late-stage engineering changes. As a result, our customers realize significant cost savings and fundamental improvements in their engineering development process. Our products include, PowerFLOW®, PowerDELTA®, PowerCLAY®, PowerVIZ®, PowerSPECTRUM®, PowerACOUSTICS®, PowerINSIGHT®, PowerCOOL® and PowerTHERM® along with professional engineering consulting services. A partial customer list includes: AGCO, BMW, Ford, Hyundai, Kenworth, MAN, Nissan, Peterbilt, Renault, Scania, Toyota, Volkswagen, and Volvo Trucks.
Founded in 1991, the company is headquartered at 55 Network Drive, Burlington, MA, USA 01803. Tel: 1.781.564.0200; Fax: 1.781.564.0299; Email: info(at)exa(dot)com; URL: http://www.exa.com
# # #
Exa, PowerFLOW, PowerCLAY, PowerTHERM, PowerCOOL, PowerSPECTRUM, PowerDELTA and PowerVIZ, PowerACOUSTICS and PowerINSIGHT are registered trademarks of Exa Corporation