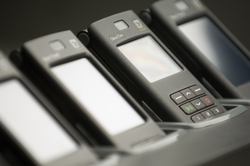 "Acoustiguide is delighted to help guide visitors through the iconic Scottish Parliament building; enhancing the visitor experience for speakers of so many different languages." Louisa Matthews - General Manager, Acoustiguide Ltd.
(PRWeb UK) December 5, 2009
The Scottish Parliament was re-established in 1999 and its landmark building in Edinburgh was completed in 2004. Visitors from throughout Scotland and around the world are welcomed into this extraordinary building where they can view the Public Gallery of the Debating Chamber and Committee Rooms, as well as the Main Hall and exhibition spaces.
Acoustiguide will provide multimedia guides from their innovative Opus Series, including Opus Click™ and Opus Touch™.
The Opus series was released in 2008 and is already in use in the UK at the British Museum, Westminster Abbey, Cardiff Castle and Roman Baths amongst others. International clients include the Musée d'Orsay in Paris, Guggenheim Museum in Bilbao, Museum of Modern Art (MoMA) in New York, the State Hermitage Museum in St. Petersburgh, the 101 Tower in Taipei and the Forbidden City in Beijing.
Opus Click™ has full colour screen with a physical numeric keypad. It works as a traditional audio guide but has the added benefit of state of the art multimedia capabilities. Opus Touch™ has a larger screen and no physical numeric keypad. This variation is designed to be used as a touch screen player and for the Scottish Parliament will be used to present a video British Sign Language tour.
The Scottish Parliament will be offering a truly inclusive range of tours for those living in Scotalnd and other visitors. The languages available were selected because they are languages identified by the Parliament's Language Policy. The Language Policy supports the Parliament's founding principles of openness and accessibility and reflects the changing landscape of Scotland's communities and the linguistic diversity that exists within them.
The languages featured will include English, Gaelic, Punjabi, Spanish, Arabic, Chinese and Polish. Each visitor will be escorted around the Parliament building in a group but will be able to access the fascinating information in their own language.
Other Acoustiguide clients in the Scottish capital include the Scotch Whisky Experience, the Museum of Scotland and the Museum of Flight. We are delighted to be able to add the Scottish Parliament to this list and we look forward to working in such an iconic building.
For further details please contact
Louisa Matthews, General Manager
louisa.matthews (at) acoustiguide.co.uk
About Acoustiguide Limited:
Acoustiguide Limited is the UK subsidiary of the Espro Acoustiguide Group. More than 50 years ago Acoustiguide revolutionized the audio tour industry, and the company has remained at the leading edge of creativity and technology ever since. Espro Acoustiguide Group companies around the world provide programs for museums, heritage and historic sites, tourism attractions, city tours, aquaria and corporate clients. Acoustiguide offers complete creative and production services, the most advanced audio and multimedia technology and comprehensive on-site management. For more information, visit http://www.acoustiguide.com.
###