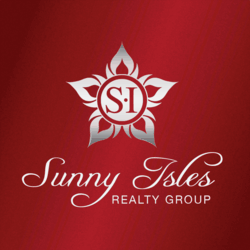 I want to provide my clients, friends and prospects useful news that will benefit their lives. It is not just about buying and selling property
Sunny Isles Beach, FL (PRWEB) May 14, 2013
Estrella Hamui and Sunny Isles Realty Group are having a stellar year in the real estate market. With a resurgence of new developments in Sunny Isles Beach and Aventura area such as Regalia Miami, Mansions of Acqualina and Porsche Design Tower, there is no denying that she knows how to buy and sell developments. Now, Estrella Hamui is transferring that success into a brand new and improved blog site at http://www.sunnyislesrealtygroup.com/ to make herself more visible. She has added to her team the expertise of Renata Calderaro, reknowned Immigration Attorney, Roz Shuster, experienced high end designer in South Florida, and Anette Halton, Feng Shui expert. Hamui comments, "I want to provide my clients, friends and prospects useful news that will benefit their lives. It is not just about buying and selling property."
Her blog site will be updated weekly, along with current events that are happening in the South Florida area and free lifestyle tips.
About Estrella Hamui and Sunny Isles Realty Group
Estrella Hamui has been selling luxury properties in the greater Sunny Isles Beach and Aventura for 15 years. Her expertise is the understanding of the value in the condo market which is the major contributor to her success. Her website is http://www.sunnyislesrealtygroup.com.
About Renata Calderaro
Renata Calderaro provides practical and innovative strategies to domestic and foreign employers regarding U.S. immigration laws, regulations and employment compliance matters. She has assisted hundreds of investors, professionals and skilled workers in obtaining immigrant and nonimmigrant visas throughout the years.
Ms. Calderaro focuses her practice on business professionals across a number of industries, including higher education, health care, financial, religious organizations, trade and entertainment. Ms. Calderaro is frequently quoted in the media regarding immigration matters. She can be contacted by phone, 305-938-3891, or by email, renata(at)visamiami(dot)com, with any immigration related questions.
About Roz Shuster Designs:
From concept to completion Roz Shuster Designs can transform your vision into a reality.
Contact:Roz Shuster
Roz Shuster Designs
Tel:561-443-7010
Email:info(at)rozshusterdesigns(dot)com
http://www.rozshusterdesigns.com
About Anette Halfon:
Anette Halfon is a Master of the classical Feng Shui teachings and the author of several bestselling Feng Shui books. She is the manager of her own study center "Soul's Mirror" operating in Israel, Germany and in the USA. Anette holds a Master's degree in Theology and studied Feng Shui with the leading teachers of the world, especially with Master Raymond Lo of Hong Kong. She combines the basic Feng Shui teachings with a personal consultation according to the Chinese astrology method "The Four Pillars of Destiny", which includes not only the analysis and explanation of your birth date, but personal coaching in all matters, from psychological problems to partnership difficulties to health issues and preventing certain illnesses. With this unique combination she helps people of all ages all over the world.
Anette teaches, lectures and consults mainly in Israel, Germany, the United States and online worldwide. She is married, the mother of three, and lives with her family in Israel.
For more information, please visit http://www.fengshuim.com
Tel(US): 818-4580956
Tel(Israel): 00972-544-289553
Skype: Anettehalfon1
Email: anette(at)fengshuim(dot)com