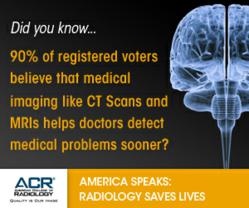 Washington, DC (PRWEB) November 16, 2011
The American College of Radiology (ACR) is urging lawmakers to protect patient access to medical imaging services by co-sponsoring the Diagnostic Imaging Services Access Protection Act (H.R. 3269) and opposing cuts under consideration by the Congressional Supercommittee.
The most pressing threat to radiologists is a provision within the 2012 Medicare Physician Fee Schedule Final Rule which imposes a 25 percent cut in reimbursement of the professional component of diagnostic imaging services administered to the same patient, during the same session, by multiple physicians within the same practice setting. Inclusion of this flawed multiple procedure payment reduction (MPPR) policy fails to recognize radiologists' moral and professional obligation to expend an equal amount of time, effort, and skill on interpreting images, irrespective of whether or not previous examinations have been performed on the same day. In an effort to preserve access to quality and affordable medical care and prevent this potentially devastating rule from taking effect, Reps. Pete Olson (R-TX) and Betty McCollum (D-MN) introduced the Diagnostic Imaging Services Access Protection Act of 2011 in the House of Representatives last month.
"Individuals that receive multiple imaging studies are often the sickest and most complex patients seen by physicians. They are typically affected by severe trauma, stroke or widespread cancer," said Reps. Olson and McCollum, in a statement for the Congressional record. "Imposition of this multiple procedure payment reduction would disproportionately affect the most vulnerable patient population. We strongly urge our congressional colleagues to support the Diagnostic Imaging Services Access Protection Act of 2011."
CMS' MPPR rule is not the only immediate threat to medical imaging and its patients. Many proposed deficit reduction plans under consideration by the Supercommittee would significantly reduce Medicare reimbursements for imaging services and institute new pre-authorization bureaucracies that would make it more difficult for Medicare beneficiaries to receive a diagnostic scan. Medicare funding for imaging services has already been slashed by $5 billion since 2007, forcing the closure of hundreds of imaging facilities. If the administration's recommendation to cut imaging services by an additional $1.3 billion is approved, many more imaging providers would be forced to shut their doors, causing patients to have to travel farther and wait longer to receive care.
"These are difficult economic times, and there is no question that we all must make sacrifices in order to restore our country's fiscal health," said John A. Patti, MD, Chairman of the ACR. "We are not asking Congress to spare radiologists and cut everyone else – we are asking lawmakers to ensure that meeting a bottom line does not come at the price of their constituents' access to these vital services, at the price of their health."
A 2009 study conducted by the National Bureau of Economic Research showed that increased use of imaging is directly tied to increased life expectancy. Continued cuts may cause more cancers and serious illnesses to go undetected until advanced stage, costing Medicare more money to treat, forcing patients to undergo more extensive treatment, and resulting in deaths that could be prevented through early diagnosis by imaging scans.
A recent national poll of 1,000 registered voters showed that nearly 90 percent of Americans believe more imaging cuts will affect early detection of medical conditions and diseases. A full 70 percent of Americans oppose further Medicare cuts to medical imaging.
"More imaging cuts lead directly to less access to modern care when Americans need it," explained Bibb Allen, Jr., MD, chair of the ACR Commission on Economics "If our elected officials don't protect access to imaging, no one — patients, providers or politicians — will be happy with the long-term effects."
For more information regarding the effect of continued medical imaging cuts, visit http://www.RadiologySavesLives.org.
###